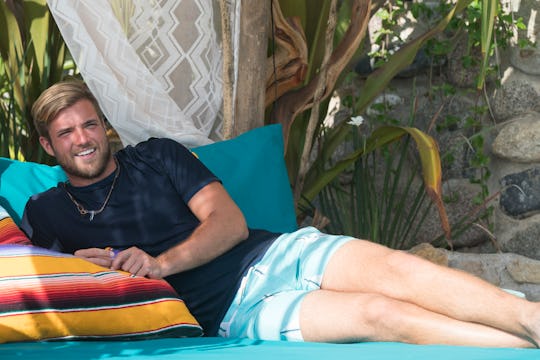 Paul Hebert/ABC
Jordan's Time On 'Bachelor In Paradise' Could Have A Happy Ending
This season on Bachelor in Paradise, Jordan has managed to show a softer side of himself that isn't about getting camera time or attention for surprise catchphrases (i.e. "Attached to me is professionality"). And after a few bumps in the road, Jordan and Jenna seem to have made one of the realest and most genuine connections this season. So it has to be asked — is Jordan single after Bachelor in Paradise? Whether you loved Jordan on Becca Kufrin's season of The Bachelorette or wished that he and his gold short shorts would leave a lot sooner than he did, he really is shining on BiP.
Right now, it seems like Jordan's biggest chance of leaving Paradise engaged or, at the very least, in a relationship, is Jenna. They clicked from the start and after a few arguments and Jenna testing the BiP waters with a couple of other options, they found their way back to each other. It was like a love story for the Bachelor Nation ages. Well, it probably wasn't that dramatic, but it has been refreshing to see Jordan fight for a woman he seems to love. It also makes you want to root for him getting his happy BiP ending.
Right now, nothing is certain, since BiP Season 5 has yet to finish airing. Plus, the BiP reunion will likely give fans updates on all of their favorite couples from the season. But Jordan himself said that the season ends well for him. In July, shortly after BiP filming wrapped, he told the Citrus County Chronicle that the season "ends on a very good note" and that he does find someone in Paradise. I can only assume/hope/pray to the Bachelor Nation gods that this "someone" is Jenna, since they seem to have been building up their relationship for the better part of the season. Even so, that doesn't necessarily mean that they're still together.
There are almost no clues on social media that peg Jordan and Jenna as a couple. Then again, that's usually how it goes since they can't really give anything away ahead of the BiP Season 5 finale and reunion. At the very least, they do still follow each other on Instagram, so there's that I suppose. And neither have posted anything negative about the season or about their respective relationship statuses, so there's definitely hope. And since there are no photos on Jordan's Instagram of other women — not including those glamour shots — it's safe to say that he's not dating anyone else at the moment.
Maybe I'm just a sucker for two kids in love, but Jenna and Jordan seem like the real deal on BiP this season. Even when Jordan's rival from The Bachelorette, David, tried to get between then, Jordan prevailed. I mean, David was literally between them on one of those over-sized BiP daybeds, and Jordan still managed to win Jenna over. If that doesn't mean they're meant to be, then I don't know what does.
Right now, nothing is confirmed, though, since the BiP Season 5 finale has yet to air. Jordan and Jenna could break up as the season comes to a close, or they could split during the reunion special. But other than Jenna, I doubt that Jordan is seeing anyone else right now and really, the same goes for Jenna's relationship status after BiP.
Among the remaining couples this season, I can definitely see Jordan and Jenna making it out in the real world. And if Jordan is no longer with her, I might be embarrassingly crushed. But I also doubt that Jordan is seeing anyone else if he's not still with Jenna after BiP.