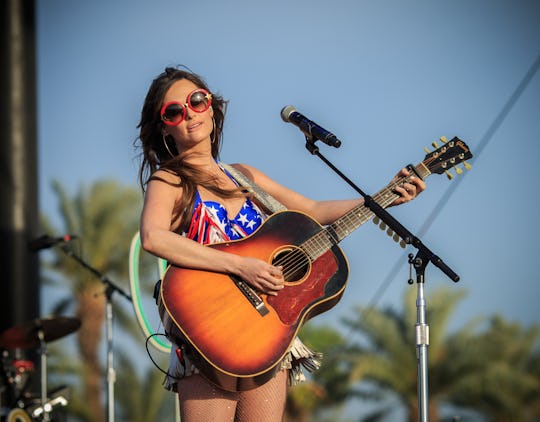 Christopher Polk/Getty Images
Is Kacey Musgraves Single? She Has A Refreshing Take On Love
Country songstress Kacey Musgraves is known for a lot of things: pared down tunes that put the focus of the song on the songwriting; lyrics that challenge her genre's traditional values and an IDGAF attitude about that; and a look that screams femininity and fun. Combined, these traits have made the Grammy winner, who is up for another award Monday night, one of the most respected young voices in country and also led many a new fan to ask, Is Kacey Musgraves single?
In her songs, at least, Musgraves seems to have a refreshing attitude toward relationships. Her 2013 song "Follow Your Arrow" flouts country music's heteronormative status quo with the lyric, "Kiss lots of boys / Or kiss lots of girls / If that's what you're into," and her hit debut single "Merry Go Round" casts a realistic eye on the default nature of some small town life choices, "Mary, Mary, quite contrary/ We get bored so we get married... We think the first time's good enough/ So we hold on to high school love." Sounds like someone who's realistic about relationships, right? Add that to the aforementioned virtues, plus her 2016 Grammy nomination for Best Country Album for Pageant Material, and Kacey Musgraves comes across as quite a catch. Which she totally is, for the guy she's dating.
Yup, Musgraves is taken at the moment, and has been for a while. Her boyfriend is Misa Arriaga, the guitarist in her band. They've been together for at least a couple of years, according to Bustle, and Arriaga is often mentioned and sometimes quoted in articles about Musgraves. According to the singer, there's no point in hiding the relationship. "He's a massive part of my career. But I don't want it to be something that people fixate on. The less people know, the better your relationships tend to fare — that's whether your grandma's asking you about it, or the National Enquirer," she told Billboard. Again, the Golden, Texas native sounds like someone who knows a thing or two about what it takes to build and maintain a healthy relationship — note how she gives Arriaga credit for his role in her rise.
And it seems like Arriaga is quite a catch himself. The Spanish-speaking acoustic guitarist and ukulele player is the kind of guy who makes his girlfriend paper hearts to pin to her jacket, according to Spin. We should all be so lucky.
You have to admit, they're pretty cute together.