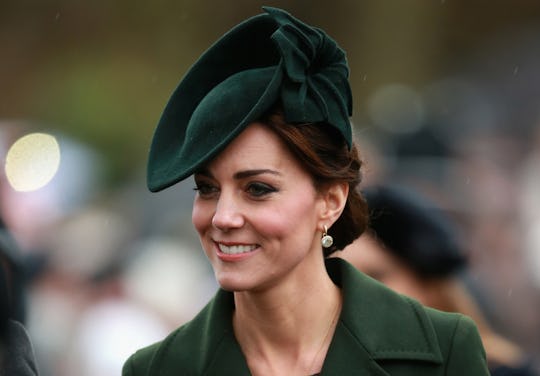 Getty Images
Is Kate Middleton Pregnant With Her Third Child? The Rumor Created Serious Hype
While another royal baby would be fun to obsess over, the news that Kate Middleton is pregnant again is, alas, just a rumor. Yesterday, Life & Style reported that the Duchess of Cambridge was expecting her third child in June, according to a "palace insider." The source reportedly told the magazine that "Kate and William have always wanted to have a large family. But they didn't think they would be expecting baby No. 3 quite so soon." They even went as far to report that Prince Harry was so excited he "jumped up and down" when the couple announced the news over Christmas.
But it's all false. The news seemed to circulate mainly in U.S. magazines and Twitter feeds, as U.K. news outlets quickly shut down the rumors. Life & Style has wrongly reported that Middleton was pregnant before. In March, the outlet reported that there was "delivery room drama" before she even gave birth to Princess Charlotte. It later reported that the Princess was pregnant in 2014, even though she wasn't, and just in October it released almost the same story, from the same "inside source," because royal advisors always talk to American tabloids, I guess.
When it comes to royal announcements: never believe the hype. So far, Kensington Palace hasn't issued any statement on the rumors, because, well, why encourage gossip hounds?
It's no surprise that people love gossiping about the royal family. In October, some even speculated about Middleton's food cravings. Hollywood Life reported that the October Life & Style cover story, now unavailable online, had all the deets about what she was eating:
She's having funny food cravings. She's been eating very spicy curries and pizza with piles of chili flakes. When she was expecting George and Charlotte, she developed the same taste for hot foods.
And her morning sickness:
At the moment, she's glowing. Kate does worry she will suffer from morning sickness again, but it wasn't as bad with Charlotte as it was with George, so hopefully it will be less extreme this time.
On social media, many were just shocked that Middleton and Prince William had any time to have another child.
Also, let's not forget that Charlotte is 7 months old and George just started school Wednesday.
The royal couple probably has its hands full with the toddler and new baby. In fact, Prince William got in a bit of trouble late last year for calling Charlotte "ladylike," and little George "lively." Which is a very polite way to say: he's probably a handful. Even Kate has said that George is prone to "running around" and "charging doors."
Between that and her actual job, who has time for baby number three?
Image: Chris Jackson/Getty Images; Giphy