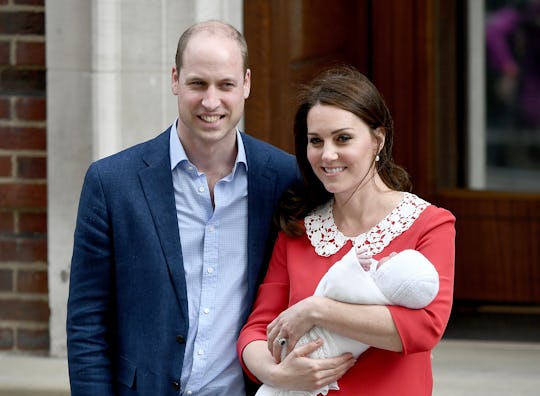 Gareth Cattermole/Getty Images Entertainment/Getty Images
Is Kate Middleton's Hospital Dress Sold Out? It's Unlikely To Be Available To Buy
The royal baby is here and besides questions about the young royal himself (what will they name him?), with the Duchess of Cambridge, Kate Middleton, thought to soon leave the hospital with her husband, Prince William, Duke of Cambridge, and her third child, people want to know what dress she'll choose to wear home from the hospital. Many of Middleton's looks sell out rapidly, so the question is, is Kate Middleton's hospital dress sold out?
After Middleton gave birth to Prince George of Cambridge, the couple's eldest son, in the summer of 2013, she chose a cap-sleeved blue polka dot dress by British fashion designer Jenny Packham, one of the duchess's favorites, that was specially-designed for the duchess herself. Two years later, after giving birth to Princess Charlotte of Cambridge, the couple's daughter, Middleton again turned to Packham for her hospital dress, this time wearing a yellow and white floral shift dress with sleeves that went just past her elbows.
Both times, styles similar to the dresses that she wore sold out quickly.
It probably shouldn't come as much of a surprise, then, that Middleton again chose a dress by Packham to leave the Lindo Wing at St. Mary's Hospital in London with Prince William and their third child, a baby boy. Middleton's third hospital dress is a red dress with a delicate white lace collar, Town & Country reported. Additionally, the duchess's nude heels were by Gianvito Rossi.
TIME reported that some social media users speculated that the red and white shift was chosen either to honor the late Princess Diana, who wore a red and white ensemble after giving birth to Prince Harry (her second son), or to honor St. George's Day, the holiday celebrating the patron saint of England (it's Monday), among other places. The new Prince of Cambridge will share his birthday with the holiday.
Undoubtedly, people will try to track down the dress that Middleton wore this time, as they do often whenever she appears in public, however, Town & Country reported in the previously-mentioned article that this dress was, perhaps unsurprisingly, a custom piece. Because it's probably unlikely that you'll be able to snag one for yourself, red dresses with Peter Pan collars in similar shapes will likely be popular purchases this week.
Prince William wore a blue shirt and navy jacket for the occasion, coordinating with both Prince George and Princess Charlotte, who also both wore shades of blue and who met their new baby brother at the hospital before the Duke and Duchess introduced him to the rest of the world (and the fans outside of the hospital). People reported that the new mom left the hospital just seven hours after giving birth to the new prince. She left the hospital about 10 hours after giving birth to Princess Charlotte, but stayed overnight after giving birth to Prince George.
If you're looking for a look-a-like red shift for yourself, here are a few places to start.