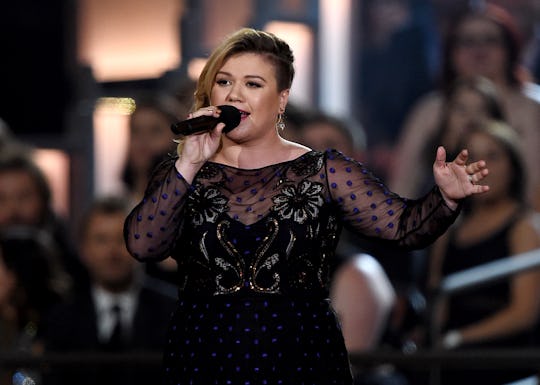 Ethan Miller/Getty Images Entertainment/Getty Images
Is Kelly Clarkson Past Her Due Date? She's Kept Her Pregnancy Details Super Quiet
Kelly Clarkson is the best. We've watched her grow up on American Idol, and, in last week's finale, it was so bittersweet for the show to end with a pregnant, married, and oh-so grown up Clarkson. I hate to objectify pregnant women. I mean, it's not really anyone's business when Clarkson is due, because she hasn't said so publicly yet, but watching her on the American Idol finale, I just had to wonder if Kelly Clarkson is past her due date. If not, she's got to be close, right? Let's work on the math together, shall we? I don't think she'd mind, since I feel like she's practically my kid sister.
So Clarkson announced she was pregnant with River Rose's little bro at the Los Angles stop on her Piece By Piece tour last summer on August 19. I'm going to assume she's generally adhering to the three-month rule. (Isn't it pretty much a general rule that you don't publicly announce a pregnancy until the first trimester is over?) Let's assume that's what Clarkson and her husband, Brandon Blackstock, went with, too. So, if she announced the baby in mid-August that would mean the baby would have been due in February. So, that's not right. Anyway, here's the cute video of Clarkson sharing her happy news with her fans.
Now, if we want to go by the totally unscientific and completely unreliable pregnancy bump watch, it looks like Clarkson's baby should be due super soon. Regardless of her bump size — and how totally crappy she's been feeling during the pregnancy — Clarkson has still managed to kill it every time she takes the stage. I love this girl.
Clarkson also gave fans a clue that the day has to be coming up very soon since she confessed to Ryan Seacrest on his radio show, On Air With Ryan Seacrest, that her doctor made her make some tough career choices for the sake of her unborn baby.
"I was going to do the Grammys and Idol, and then my doctor was kind of like, I just have such hard pregnancies, flying back and forth to L.A., like if they were closer together, I would've done both, but I kind of had to choose one," Clarkson said. She skipped the Grammy Awards ceremony in favor of American Idol. According to the Mayo Clinic, commercial air travel isn't considered safe after the 36th week of pregnancy.
So the truth is that we don't exactly know when Kelly Clarkson is due or whether she's already passed her due date, but it certainly sounds like she and her doctor are on top of her health and not taking any unnecessary risks — even for the Grammys. So we probably don't need to worry too much about River Rose's mama. Hang in there, girl! I'm rooting for you, and I'm sure the baby will be adorable.