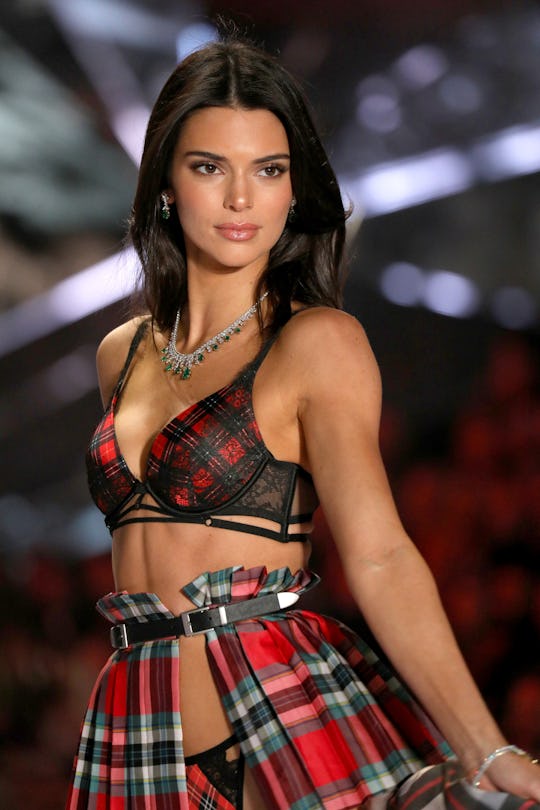 Thomas Concordia/Getty Images Entertainment/Getty Images
Kendall Jenner's Return To The Victoria's Secret Fashion Show Should Be Fierce
Kendall Jenner has taken the modeling world by storm. Not only has she walked runways for numerous designers at fashion weeks all over the world, but she's also walked in the Victoria's Secret fashion show multiple times. Since she was absent at last year's show, fans are wondering: Is Kendall Jenner at the Victoria's Secret fashion show this year?
Good news, KarJenner fans — Jenner will, in fact, strut the runway at the 2018 Victoria's Secret fashion show, airing Sunday night on ABC. "I'm excited to be back. We're all together again," Jenner told People, referring to herself, Gigi Hadid, and Bella Hadid. Jenner missed last year's Victoria's Secret fashion show because of a partnership with lingerie brand La Perla that included a non-compete clause, TMZ reported in August 2017.
According to People, Jenner first participated in the fashion show in 2015, and when she returned to the show in 2016 (in Paris!) she was promoted and got to wear a pair of angel wings. This year's fashion show was filmed on Nov. 8 at Pier 94 in New York City, according to Billboard. It airs on ABC Sunday, Dec. 2 at 10 p.m. ET, and it will also be available for live-streaming on ABC's website and on the ABC app.
By the looks of photos already released from the event, Jenner got to wear angel wings at the 2018 show as well. And even though it had been two years since Jenner walked Victoria's Secret runway, she got some practice during Halloween this year, when she and her four sisters dressed up as Victoria's Secret angels. "I did [get my practice in]. I actually didn't even think of it like that until I got into the outfit and I was like, 'Oh wow, this was good,'" Jenner told People of the Halloween costume preparing her for the runway show the following week. "It was so much fun."
Earlier this month, Monica Mitro, the executive vice president of public relations at Victoria's Secret, spoke with Vogue about how the Kardashian-Jenner family's costumes came to be. She told the magazine that it was all Kim's idea, adding:
We're friends with the family and their stylists. Their stylists came to us and said, we have this idea, would you guys be open to providing some of your past costumes and wings for the Kardashian girls to do their Halloween? ... My team in Columbus went into the distribution center, and some of the costumes were quite old, and we sent them current lingerie.
Even though the show has not yet aired on TV, plenty of official photos from the event have already emerged. This year, it looks like Jenner wore two very different looks. One outfit featured a black lace bra and underwear, paired with a diamond-encrusted sheer black long-sleeved crop top and black, starry angel wings:
She also took off the wings to join her fellow models onstage for a more lighthearted moment.
Get it, Kendall!
Whatever your feelings on the KarJenner family or Victoria's Secret, there's no denying that Jenner appears to be having the time of her life on that runway.
This first-time mom wants to have a home birth, but is she ready? Watch how a doula supports a military mom who's determined to have a home birth in Episode One of Romper's Doula Diaries, Season Two, below. Visit Bustle Digital Group's YouTube page for the next three episodes, launching every Monday starting November 26.