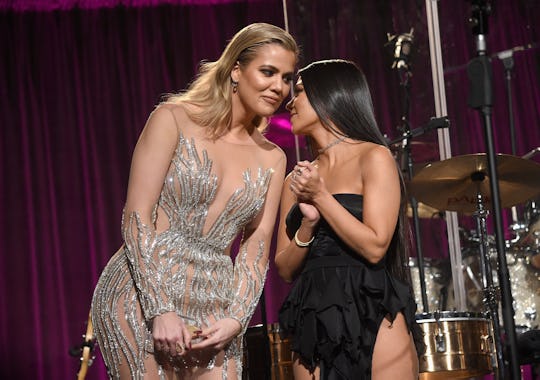 Jamie McCarthy/Getty Images Entertainment/Getty Images
Khloé Kardashian's Pregnancy Announcement Might Hint At An Engagement, & People Are So Confused
Dolls, there's finally a confirmation of at least one of the mysterious KarJenner sister pregnancies! On Wednesday evening, Khloé Kardashian posted a baby bump picture on Instagram with her boyfriend's arms around her waist. But there might be even more good news to come, since some people are wondering if Khloé is engaged to Tristan Thompson, since there are quite a few rings on her finger.
Khloé's been married before and she finalized her divorce from Lamar Odom almost exactly one year ago, on December 16, 2016. It would be sort of unusual to announce an engagement to Thompson, the father of her baby, on the year anniversary of her dreadfully long divorce, but then again, she just announced that a baby's on the way, so why shy away from the drama?
The rings are on her ring finger and they're bands, which is why some fans are speculating that Thompson and Khloé have already tied the knot. She doesn't always wear rings, but there is a December 7 photo on her Instagram from a Good American shoot where she's rocking them. She also wore them to her surprise birthday party, all the way back in June. On the Christmas card pics, it's too hard to see.
It's a tough call, and as a longtime member of Team Khloe who will be happy either way, I'm going to ahead and speculate on both sides of the aisle.
She's Probably *Not* Engaged
For one, I feel like Koko is pretty drama free. After keeping the pregnancy news private for as long as possible, as she wrote in her Instagram post, just to cherish the moments with her family, it wouldn't make sense to hide an engagement or a wedding now.
She could have low key dropped "husband" or "fiance" in the little bit about Tristan in her caption, but she didn't. There's a whole lot of exclamation points, but no language about whether or not those rings are wedding bands, engagement rings, or neither. Khloé wrote:
Tristan, thank you for loving me the way that you do! Thank you for treating me like a Queen! Thank you for making me feel beautiful at all stages! Tristan, most of all, Thank you for making me a MOMMY!!! You have made this experience even more magical than I could have envisioned! I will never forget how wonderful you've been to me during this time! Thank you for making me so happy my love!
On The Other Hand, She Probably *Is* Engaged
Khloé does not care what you think about her life choices; She married Lamar within a month of meeting him and it's easy to see that she's over the moon in love with Thompson, so it's not like marriage is out of the question — and she's already had a huge, widely publicized wedding, so she probably wouldn't mind a more quiet affair. A private affair. One out of the spotlight. So, there's a good argument that she and Tristan tied the knot without anyone looking, or got engaged without anyone looking. That'd make sense! And plus, the rings. The rings make it seem like they're engaged or already married.
But Then Again ...
Let's remember that both Kim and Kourtney had kids without being married first. Kourtney has never been married to Scott Disick, the father of her three gorgeous babies. And Kim and Kanye didn't even get engaged until four months after North was born. So having children without an official wedding certificate or engagement is just how the family does things.
I guess we'll have to wait and find out. Hey Kris, holler!
Check out Romper's new video series, Romper's Doula Diaries:
Watch full episodes of Romper's Doula Diaries on Facebook Watch.