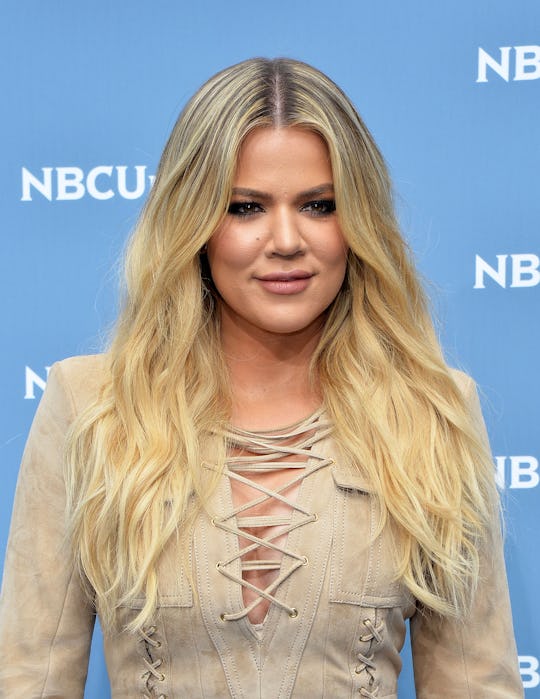 Slaven Vlasic/Getty Images Entertainment/Getty Images
Khloe Kardashian May Have Denied Her Pregnancy & I Don't Know What To Think Anymore?
Ever since news broke that Khloé Kardashian might be pregnant with her first child, fans have been speculating about whether it could be true or not. Since the family and their representatives haven't confirmed the news in any official capacity, all people have to go on is her social media presence and any random interviews she or her family gives. Which is why some fans think that in one of her most recent Instagram posts, Khloé Kardashian seems to be denying her pregnancy. Er, maybe. It's complicated.
Here's what happened: Khloé posted pictures of her and model Slick Woods showing off the latest Good American pieces. In one, Khloé is wearing a "leather-like" denim outfit. Fans immediately went either way in the comments. Some swore they saw a baby bump in the images. Others asked her, "aren't you supposed to be pregnant." Kardashian eventually responded in a comment writing:
This is a peplum shirt. It [flares] out at the bottom. It's just the way the shirt is designed. In some of the next pictures coming up from the SAME shoot, I'm in a crop top. Showing a lot of skin…
This could be read a few ways, of course. But given Khloé's work around body image, it seems especially important that she's responding to people who both love and snark on her supposed "bump."
Although the pregnancy hasn't been confirmed, the rumor is that Khloé is four months along with her and boyfriend Tristan Thompson's first child. No one knows when these pics were taken for the line. If it was launched this week, it's likely that the photoshoot took place way before Khloé maybe even knew she was pregnant. That's how fashion and things like this work.
But that sort of doesn't even matter. At four months, some women might not be showing any sort of bump at all. In fact, even Khloé's response that she's "showing a lot of skin" and therefore might not be pregnant is walking the line of bump shaming. Like, you can have tight abs and be pregnant. You can show off skin when you have a baby bump. You can also decide to wear sweatpants and shun "leather-like denim" until your kids turn 18 and you finally feel like a human again.
All sorts of things can happen to a woman's body when she's pregnant and as much as it's understandable that people want to know what's up with Khloé's pregnancy — hey, the Kardashians asked us all to keep up with them after all — trolling for a bump at 4 months in, or ever, is sort of nasty.
For any celeb, going through pregnancy in the public eye must be just awful, if only because of the random comments and headlines that come their way about the way their bodies look at any given moment. Seriously, this happens even when they're not pregnant, so it's not a total shocker that fans are breaking out their magnifying glasses to inspect Khloé's mid-section.
Khloé, however, is the one Kardashian sister who has gotten the most criticism for her body. She does have a spinoff show called Revenge Body, all focused on getting super fit in the wake of a breakup or trauma. The 33-year-old told People last year that getting back to the gym after Lamar Odom's hospitalization was essential for her sanity.
She said, "I definitely think the physical and the mental go hand in hand. I feel so good in the gym that it [affects] the rest of my day. It's a healthy addiction. It's like buying your sanity!"
Just days before rumors of her alleged pregnancy hit the internet, trolls were calling Khloé "fat" because she deigned to wear sweatpants. She responded to the bullying, saying, "So rude of people to say I'm getting fat because I wore baggy clothes to get laser hair removal. It's called being comfortable people."
For this reason alone, maybe it's best for fans, even the most well intentioned, to wait until Khloé confirms her pregnancy before commenting on any "bump" they might spot under her peplum top. Or just stop commenting on women's bodies altogether. How's that for a novel idea?
Check out Romper's new video series, Romper's Doula Diaries:
Check out the entire Romper's Doula Diaries series and other videos on Facebook and the Bustle app across Apple TV, Roku, and Amazon Fire TV.