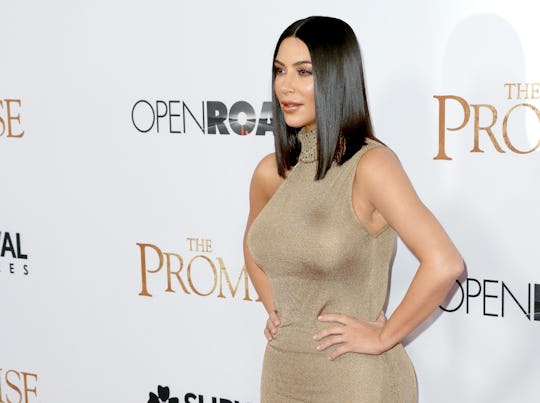 Frederick M. Brown/Getty Images Entertainment/Getty Images
Is Kim's Surrogate Pregnant Yet?
It seems like North and Saint West will have a new sibling to pal around with — reports are circulating that Kim Kardashian West and husband Kanye West have hired a surrogate to carry their third baby. But is Kim Kardashian West's surrogate pregnant yet? Details are still scarce, but fans are anxious to hear news about the next member of the West family.
According to People, the news that Kardashian has hired a surrogate shouldn't be too big of a shock. She has been very vocal about the difficulties she faced during her two pregnancies and how she healed postpartum, noting that as much as she wants a third child, it's just not feasible for her to carry one. People reported that Kardashian has discussed this issue on Keeping Up with the Kardashians and her sister, Khloe Kardashian, and model Chrissy Teigen have offered to be her surrogate.
So when will the process be official? TMZ reported that things are already in motion to welcome the littlest West. Kardashian and West reportedly hired their surrogate through an agency and, according to unconfirmed reports from TMZ, have to pay 10 monthly installments of $4,500 along with a deposit to the agency of $68,850. The surrogate is also required to refrain from smoking, drinking, and drugs, getting in hot tubs or saunas, changing cat litter, applying hair color, eating raw fish, and drinking more than one caffeinated beverage per day.
But is Kardashian's surrogate pregnant yet? TMZ also reported that the surrogate has to restrict "sexual activities leading up to the pregnancy, including foregoing sexual intercourse for three weeks following embryo implantation."
With this in mind, it's safe to assume that Kardashian's surrogate isn't pregnant yet, but that one has been hired and plans are underway for Kardashian and West to welcome their third baby. As exciting as the news is, the West family, including the surrogate, deserve privacy during this time. I can only imagine how surreal it must be to carry the baby of Kardashian and West, let alone knowing that everybody is concerned with the state of your uterus.
According to the Centers for Disease Control and Prevention, in 2015, there were 231,936 assisted reproductive technology cycles performed at 464 reporting clinics in the U.S. ART includes "all fertility treatments in which either eggs or embryos are handled." The main type of ART is in vitro fertilization. IVF involves extracting a woman's eggs, fertilizing the eggs in the laboratory, and then transferring the resulting embryos into the woman's uterus through the cervix," the CDC noted. While it doesn't specifically state surrogacy, this would be included in the numbers as a surrogate must undergo an embryo transfer.
Out of those 231,936 cycles, there were 60,778 live births that resulted in 72,913 live born infants. (45,779 of those cycles were banking cycles, which can include freezing eggs, and were not intended to result in a pregnancy or live birth.) The CDC reported that 1.6 percent of all infants born in the U.S. are conceived through ART.
So basically? The West family is in good company. Surrogacy is a pretty incredible thing to witness and experience, but the family (and the surrogate) deserve some privacy. Besides, you'll most likely see it play out on Keeping Up with the Kardashians soon.