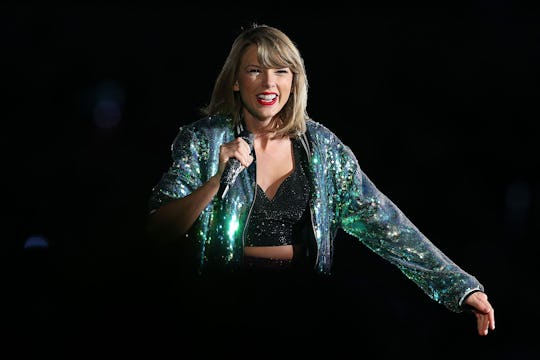 Graham Denholm/Getty Images Entertainment/Getty Images
Fans Are *Convinced* This Is Who Taylor Swift Is Singing About In "King Of My Heart"
Taylor Swift's Reputation album has dropped, and fans are ready for it. They've been ready for it for months, desperate for any news from Swift as she went off the social media radar for nearly all of 2017. Now that Reputation has arrived, the world is getting a glimpse of what it might have been that had Swift shying from the limelight for such a long time. Well, fans are looking to a fella named Joe Alwyn, who is clearly not just a passing romance. This might be the Real Thing for Swift. And Swifties seem to think that one song in particular, "King Of My Heart," is all about Joe Alwyn. And if it is... this girl's got it bad.
Romper reached out to reps for both Taylor Swift and Joe Alwyn for confirmation about their romance but did not hear back.
The "Bad Blood" singer and Alwyn, a British actor as well as a model for Prada's 2018 "Ascension" collection, have reportedly been dating for nearly a year. The two have been spending the majority of their time in London, where Alwyn lives with his parents, and keeping a much lower profile than Swift has with her previous relationships (Hiddleswift, anyone?). A source close to the couple told People:
Their relationship is very different from Taylor's past ones. They much prefer having dinner parties at home with friends than going out. Just like Taylor, Joe is a homebody. He loves being an actor but doesn't like the celebrity part of it. It's pretty special to find someone you're on the same page with.
However the couple might have been spending their time, it's clearly been time well spent. I give you "King Of My Heart" lyrics as Exhibit A. According to Genius, they read in part:
I'm perfectly fine, I live on my own/ I made up my mind, I'm better off bein' alone/ We met a few weeks ago/ Now you try on callin' me/ Baby, like tryin' on clothes
So prove to me I'm your American Queen/ And you move to me like I'm a Motown beat/ And we rule the kingdom inside my room/ 'Cause all the boys and their expensive cars/ With their Range Rovers and their Jaguars/ Never took me quite where you do
I mean, if "King Of My Heart" is not about Alwyn, Swift might be setting herself up for a super awkward conversation when he hears it.
Some fans think Alwyn's "American Queen" might have gone super gaga for her man with the entire Reputation album, as several of the songs have a heavy T-Swift love song feel to them. But specifically "King Of My Heart."
But other songs like "Call It What You Want It," "Don't Blame Me," "Gorgeous," and "New Year's Day" also have fans speculating hard about Alwyn's influence over Swift. All positive, all sunshine and roses, of course, but.... yeah, a whole album dedicated to one man? That's either crazy romantic or romantically crazy, I can't decide which.
Fan theories about Swift's new album have been virtually boundless; some think there are heavy references to a past feud she had with rapper Kanye West and his wife, Kim Kardashian, while others are sure Swift is trying to take down the constant media coverage she has had to endure for years.
There is one theory all Swifties seem to be able to agree on, though; that Swift is crazy in love with Joe Alwyn, and that he seems to be really good for her. Because he must be the "King" of her heart. Aww.
Check out Romper's new video series, Romper's Doula Diaries:
Watch full episodes of Romper's Doula Diaries on Facebook Watch.