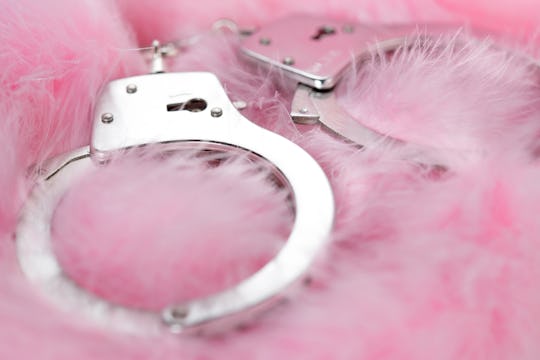 Paulista/Fotolia
Is Kinky Sex Safe After An Episiotomy?
Kinky sex: Whether you love it, hate it, or aren't sure what it is exactly, you've probably thought about it. Your first introduction to kinky sex may have been all thanks to a certain man in Fifty Shades of Grey, who so masterfully ignited the wild fantasies of women across the globe. Or you might have discovered and embraced the kinky side of things long before Anastasia Steele learned about Ben Wa balls. Whatever the case, now that you have had a baby, you may be wondering, is kinky sex safe after an episiotomy?
The first thing you may need to know in order to find an answer to your question is the exact definition of kinky sex. What qualifies as kinky sex isn't just about people who enjoy getting spanked or rough sex, according to Your Tango. In fact, in order to identify as kinky, all you need is to have a particular state of mind.
Being kinky is all about embracing the parts of your sexuality that go against the so-called norm; that lie outside of the standard expectations of romantic and allow you to embrace more than just intercourse-based sex. It's also about shamelessly celebrating what you like in bed, asking for it, and enjoying it.
The best part of kinky sex is that it's not an all-or-nothing type of sexual preference. In fact, according to the aforementioned YourTango article, because being kinky is a state of mind you don't have to like everything under the very large kinky umbrella in order to call yourself "kinky." You might enjoy being tied up or love spanking, but hate sex with pain or any kind of domination. It's really just about embracing what you do like, and not being ashamed of it.
When it comes to kinky sex postpartum and whether it's safe if you have had an episiotomy, that may all come down to the kind of kinky sex that you are planning to have. If it involves any kind of penetration, then it is advisable that you take all of the same postpartum sex precautions that you would normally take, such as waiting for your doctor's clearance at your six week postpartum exam.
However, if your kinky sex plans don't involve intercourse, then your healing episiotomy may not be a problem. It takes about one month after the birth for your episiotomy to heal, according to UK-based site NHS Choices. If you are feeling good enough to try kinky sex before this, then it may work well if you stick to clitoral stimulation and other forms of outercourse. In order to find out more about the safety of postpartum kinky sex, Romper spoke with certified sex educator, mother, and author of The Ultimate Guide to Sex Through Pregnancy and Motherhood Madison Young.
"I would say if kink wasn't a part of your previous play then choosing your first three months of motherhood to start exploring kink might not be the best choice," Young says. "However, if kink was always a part of your sexual play, you might find that it quite easily makes its way back into your sex life. But take things easy and slow and check in with yourself and your partner and make sure to leave plenty of time for communication and negotiation."
If you are thinking of exploring kinky sex while your episiotomy heals, now may be a good time to try some outside-the-box things such as bondage, foot play, whipped cream in bed, roleplaying, or even pegging (when a woman has sex with a man while wearing a strap-on). Whatever you do, however, make sure that you keep open communication with your partner about what is feeling good and what isn't. After all, kinky sex is all about enjoying things — and pain and discomfort shouldn't be a part of that. Unless you want them to be, of course.