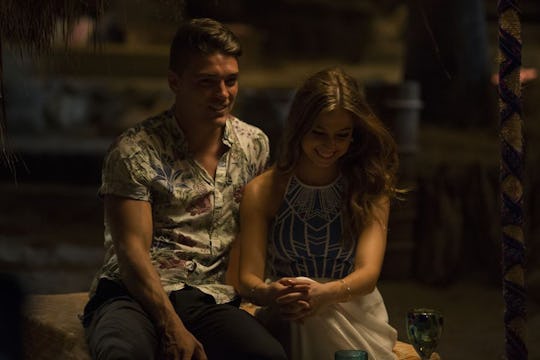 Paul Hebert/ABC
Kristina Definitely Isn't Enjoying Her 'Paradise' Experience
The only thing worse than not making any connections in Paradise is suffering a really heavy breakup in Paradise. It looks like that's the road Kristina is heading down with Dean, who doesn't seem to understand that Paradise is not the place where you juggle two intense girlfriends at once. He's steadily been stringing both her and D-Lo along, but Kristina finally hits a wall next week and their relationship is poised to go down in flames. So is Kristina dating anyone after Bachelor in Paradise? She's been having a rough go of it this season.
What got in Dean and Kristina's way wasn't really the arrival of D-Lo, but rather the break from filming that transpired right after they first began to hit it off. Dean and Kristina had already forged one of the strong early connections when the show had to take a two-week hiatus from filming to investigate this season's sexual misconduct allegations. Dean and Kristina wound up using the time off to road trip together to Kristina's hometown, and both of them said they genuinely enjoyed their bonding time. But once they were back in front of the Bachelor in Paradise cameras, something seemed off. Dean became super shut down all of a sudden and Kristina grew increasingly frustrated trying to pull information out of him about how he was feeling.
Then D-Lo showed up and Dean seemed to realize he had options, so he went on a date with her. He's been reassuring both D-Lo and Kristina that he's interested in both of them ever since. Kristina finally seems to have caught on to his cycle of placating her followed by extending a similar gesture to D-Lo and she's definitely over it. From previews, it looks like she's even considering a self-exile and might go home before she gets rejected at a rose ceremony. Kristina obviously isn't feeling it with anyone else in Paradise and it's unlikely that a new person will be brought in at this point who could turn the experience around for her.
From the looks of her social media accounts, Kristina is definitely focusing on girltime. She talks about what's going on between her and Dean on screen pretty openly when she live tweets the show, but there's nothing to indicate that they weathered the storm together after filming. On the bright side, she's made tons of Bachelor franchise girlfriends and posts photos of them hanging out constantly. Sometimes, the best takeaway from Paradise is a handful of very attractive friends to visit all over the country. Surely, there might be some cute boys in one of those cities for Kristina to hit it off with.