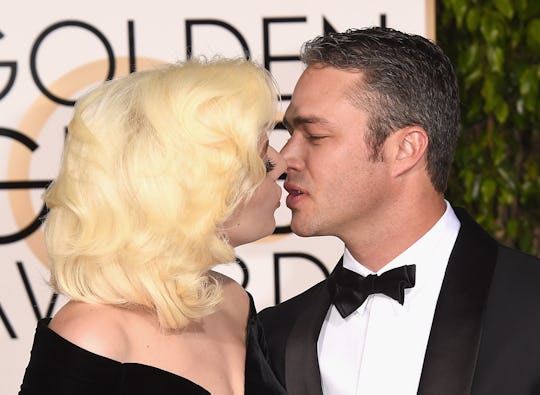 Jason Merritt/Getty Images Entertainment/Getty Images
Is Lady Gaga's New Album Joanne About Her Ex? Their Split Was Recent
The big news: Lady Gaga and her fiancee, actor Taylor Kinney, recently ended their relationship. The bigger news: Lady Gaga announced that she will be releasing a new album (which will most certainly be life) on Oct. 21, titled Joanne, to the rabid joy of her Monster fans. The biggest news: could Gaga's new album be based on her ex? While she wouldn't be the first artist to draw from a recent break-up as inspiration for an album (cough, cough Taylor Swift, cough), I'm pretty certain she would bring some extra flare. On account of she's Lady Gaga, you guys.
Stefani Joanne Angelina Germanotta (or Lady Gaga, as some of us know her), recently dropped her first single, "Perfect Illusion" from her new album, and fans naturally lost their minds. The song, which is well on its way to selling 100,000 downloads in its first week, has some interesting lyrics that, one could easily argue, could be attributed to her recent break-up. Still, they are cleverly hidden in a crazy beat, so they can be easy to miss.
Maybe you're just a dream
That's what it means to crush
Now that I'm wakin' up
I still feel the blow
But at least now I know
So now she knows. What does she know? According to The Daily Star, Gaga said:
"I've been betrayed by all types of people in my life and thought an illusion was put out to bait me in some kind of way. There's a lot of rage on the album. There's going to be a lot of personal things on that record that are written through the lyrics and the music."
Gaga and Chicago Fire actor Kinney announced the end to their five-year relationship in July, with the simple explanation that they simply drifted apart. Sources close to Gaga told Us Magazine that she was crushed, and that she decided to go on "a girls trip to get away and get over it," in Cabo San Lucas. In November 2013, Gaga was still pretty gaga (sorry guys, but really) over Kinney, telling Ellen DeGeneres in an interview:
"At the end of the day, he's my best friend. And having your lover be your best friend, I mean, it's the best thing ever. It's the best thing I can say about it."
For his part, Kinney was just as smitten with Gaga. He told Entertainment Tonight in January:
"She was the sweetest thing that ever was. She was a sweetheart. I loved her from the moment I met her."
Of course, as we all know, nobody really knows what goes on in a relationship behind closed doors. Until Gaga's album Joanne is released, of course. And then we can all get a glimpse, I suppose. So, and I don't know about you guys, it makes me a little sad for Mother Monster. I hope she's well and I hope this new record was the cathartic release she both needs and deserves.