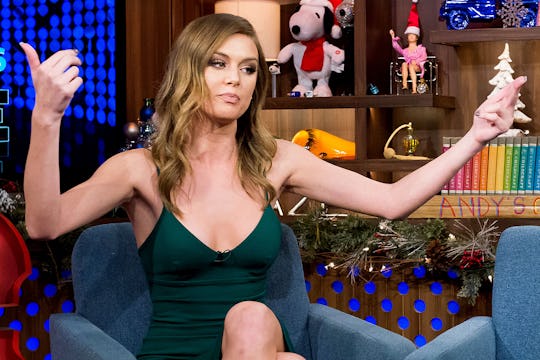 Bravo
Is Lala Returning To 'Vanderpump Rules'? She's Missing From The Season 5 Intro
Season 4 of Vanderpump Rules cemented the drama-heavy ways of both Lala Kent and James Kennedy, but on a show where you literally need drama to make it all worth it, you kind of had to expect that just because they're trouble makers, it doesn't necessarily mean they'll be going anywhere. But the Season 5 premiere of Vanderpump Rules is Monday night and Lala was noticeably absent from the new intro that was released, so is Lala returning to Vanderpump Rules?
For all of you Lala fans out there who are collectively holding your breaths, worried that your favorite party girl and general drama starter is going to be M.I.A. for the season, you can let it out. Even though Lala isn't in the Season 5 intro for Vanderpump Rules, she's in the cast photo for the season and she was definitely in attendance at the Vanderpump Rules Season 5 premiere party. And no, it wasn't just for the free booze.
It's a relief for fans to see her smiling face in the new cast photo, but it still doesn't explain what else will be in store for Lala this season on Vanderpump Rules. The girl is nothing if not a drama queen, who brings it with her everywhere she goes (bless her), so can fans expect another juicy, drama-filled season with her at the helm of it all?
Lala and James Kennedy famously appeared on Watch What Happens Live, during which they both got drunk and swore so much that poor Andy Cohen had to scold them multiple times. Was this a preview of things to come, with needing to sensor the girl who obviously can't be stopped? And what does it mean that Lala is back for Season 5, but won't be featured in the episode intro, as she was before? Honestly, with a reality show, it could mean any number of things, but in this case, there is a pretty big rumor floating around that solves it. The rumor is (spoiler alert) that Lala quits Season 5 of Vanderpump Rules halfway through the season.
That definitely explains why she's plenty present in the cast photo, but missing from the intro. She's been open about tweeting her support and love for the show she's on, though, which only adds to the mystery.
In the trailer for Season 5, viewers see Kristen Doute lecturing Lala about dating a married man and it looks like there will be drama with another female cast member, Katie Mahoney, as well. So yeah, drama does indeed seem to follow Lala each season. But then again, that's part of what makes the show so watchable, isn't it?
Vanderpump Rules premieres Monday, Nov. 7 on Bravo at 9 pm ET.