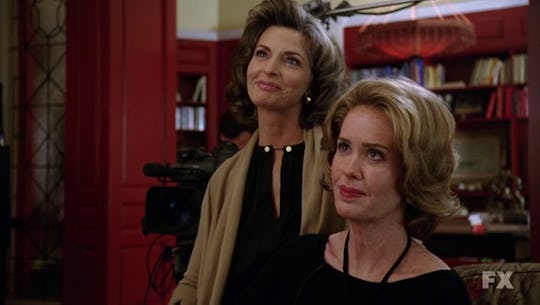 FX
Is Lana Winters Dead On 'AHS: Roanoke'? Lot Polk Interrupted Her Live Interview
It's always fun when an old character from a past AHS season returns to the series. This was certainly the case for Lana Winters, played by Sarah Paulson — a character from AHS: Asylum. Lana returned to her role at the end of Asylum as a reporter Diane Sawyer-type interviewing Lee after 3 Days In Hell. But, unfortunately for Lana, her exclusive interview with Lee was interrupted by Lot Polk and an assault riffle. So, is Lana Winters dead on AHS: Roanoke?
Lana had another plan for Lee during their live interview, despite what Lee might have been told. She pulled a 180 on Lee, completely shifting the narrative Lee was trying to tell — suggesting that Lee had something to do with Flora's abduction that took place only an hour before the interview went live. Personally, I don't know how people can really think Lee, at this point, is responsible for Flora's abduction, but here we are. Plus, doesn't it seem very bold to abduct your child then go on national television an hour later without that kid?
No matter what, the more concerning part is that Lot Polk interrupted (read: stormed) the interview with a riffle and started attacking those in the room. Luckily, in the weirdest use of the word, Lot only seemed to knock Lana out — avoiding doing too much damage, leaving a glimmer of hope for those wanting more Lana Winters. But, we didn't see Lana right away when the commercial break came back. We, in fact, didn't hear about her until later in the episode.
Eventually, we heard from a reporter that Lana was recovering from the injuries she sustained from her attack. But, as a video conference proved, she was alive. She looked worn down, understandably so, but she was alive, breathing, and still the "national treasure" the show called her. I couldn't agree more.