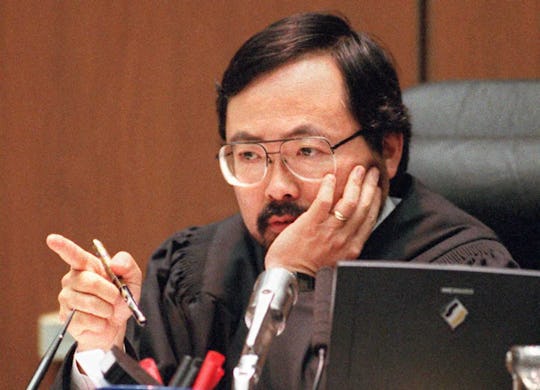 HAL GARB/AFP/Getty Images
Is Lance Ito Still A Judge? He Presided Over Hundreds Of High-Profile Cases
Perhaps best known for his role in the O.J. Simpson trial, Los Angeles Superior Court Judge Lance Ito was a face many people knew. He was the man people turned to 20 years ago to learn the verdict in the most infamous and unforgettable double-murder case of the past 20 years, and today he is one of the many players in The People v. O.J. Simpson: American Crime Story — a crime anthology/series based on real life events. (Well, not him persay, but his story, his persona, and his likeness.) But where is Judge Ito now? Is Lance Ito still a judge?
Sadly, no. The 65-year-old Ito retired earlier this year, after presiding over 500 cases since Simpson's trial. In fact, a spokesperson at the Los Angeles Superior Court told NBC Ito retired on January 5 — after spending 20 years overseeing high-profile cases involving major murders, robberies, and rape. According to his friend and former Los Angeles County District Attorney Robert Philibosian, Ito oversaw such cases because of his "expertise":
There's separate security to get in there [Ito's courtroom]. He was assigned there because of his high level of expertise.
And even though Ito declined to be interviewed for the article (as he has for most articles and interviews since the Simpson case), Philibosian said that the former judge is enjoying his time off and that it has been a "wonderful retirement."
[Ito and his wife of 34 years] travel and they have a huge group of friends.
Ito was born in 1950 and is the son of two Japanese-American schoolteachers, who met in an internment camp during World War II, according to U.S. News & World Report. He attended John Marshall High School, where he was an honor's student and the student body president. Ito then went on to earn his bachelor's degree with honors from UCLA in 1972, and his Juris Doctor degree from the University of California, Berkeley, in 1975. While Ito spent a few years in private practice, he joined the Los Angeles district attorney's office in 1977, and, in 1989, Ito was appointed to the Superior Court, according to Biography.com.
With such modest beginnings, and with such a solid work ethic, it is no wonder why Sergio Robleto, a former commanding officer for the LAPD homicide department described Ito has "humble."
It's kind of amazing, considering the spotlight he got put on.
And, in my opinion, Robleto is right: Ito is "kind of amazing."