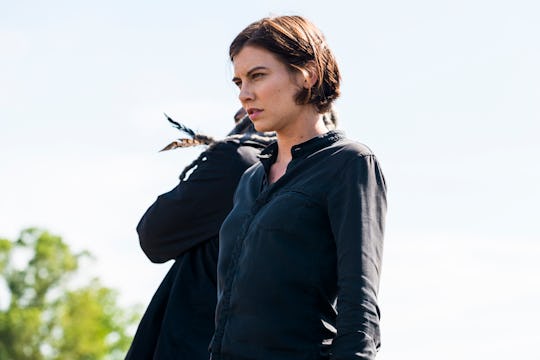 Gene Page/AMC
Is Lauren Cohan Leaving 'The Walking Dead'? Fans Are Concerned About Maggie's Future
The worst part about being a fan of The Walking Dead is knowing that sooner or later, one of your most favorite characters is going to get taken by a walker in the most gruesome ways. Or somehow disappear from a group and not show up until seasons later. Although Maggie's one of the characters that lives throughout the original story and she's pregnant right now, some people are wondering if the actress who plays her, Lauren Cohan, is leaving The Walking Dead for Season 9. For good reason, too. Romper's request for comment from AMC about Lauren Cohan's contract agreements for the show was not immediately returned.
Although the networks hasn't confirmed or denied anything at the moment, there are a few good reasons to wonder whether she's going to renounce her role on the Hilltop or be killed off, despite the original comic book storylines. The first reason is that, according to Deadline, Cohan has officially booked the lead on the pilot of ABC's Whiskey Cavalier, where she'll play a CIA operative named Francesca "Frankie" Trowbridge alongside Scott Foley's Will Chase.
To be honest, as much as I love Maggie and want good things for her, everything about that sentence sounds delightful — Scott Foley, Cohan, spies? What's not to love? The Deadline report mentions that the schedule of both shows wouldn't interfere with each other, so if the ABC show is actually picked up by the network, she could theoretically do both. If, of course, she wants to.
Putting aside my desire to see Foley and Cohan on screen together as badass CIA agents with hearts of gold, there's another sticking point when it comes to Cohan's plans for next season. She and AMC haven't solidified a deal yet for Season 9, according to The Hollywood Reporter.
Sources reportedly told the entertainment magazine that Cohan and her team are "not happy with the offers that have been on the table from AMC." Again, AMC did not immediately return Romper's request for comment about Cohan's involvement with Season 9 of The Walking Dead, so this is all just hearsay for now. No need to start mourning Maggie just yet,
But, according to these Hollywood Reporter sources, Cohan isn't even asking for "salary parity" with the male leads like Andrew Lincoln or Norman Reedus (although she probably should, in our humble opinions), but that it's been a rough round of negotiations with the network. AMC has reportedly made "aggressive offers" and Cohan and her team has considered them "lowball."
It's worth wondering what's going to happen to Maggie on The Walking Dead. Showrunner Scott Gimple addressed Cohan's contract negotiations in an interview with TV Line just before news of her ABC pilot broke. He said he was "incredibly hopeful" about making a Season 9 deal with the talented actress. But he was also realistic. "These things do happen in TV … but we're talking. Lauren is an actor who has such intuition and such power. So yeah, hopefully, it all works out."
As much as fans want to see the show play out as close as possible to the source material, it's possible that the writers will have to whip something up for Maggie if Cohan decides to walk away IRL. That could be pretty devastating for the series, if only because fans are diehard about accuracy and the characters they love.
It's that dedication to the story that might mean the network will eventually come around. Cohan likely has a lot of power in these negotiations, given how popular she is and the fact that she's already ventured out to try new things on other networks shows she means business.
Whatever happens, let's at least hope that ABC pilot gets picked up and something can be worked out. Because there's really not enough Lauren Cohan on our television screens.
Check out Romper's new video series, Romper's Doula Diaries:
Watch full episodes of Romper's Doula Diaries on Facebook Watch.