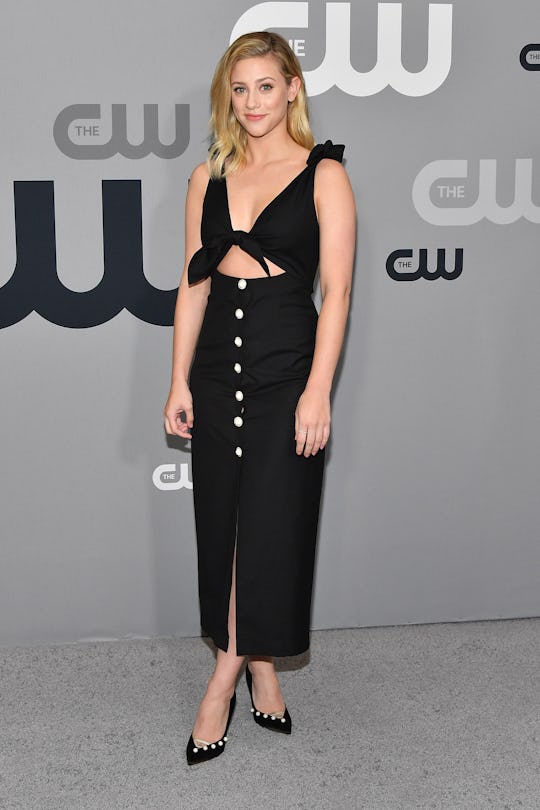 Dia Dipasupil/Getty Images Entertainment/Getty Images
Moms Will *Love* Lili Reinhart's Feminist Post Shutting Down Pregnancy Rumors
As much as people are hyper-critical of their own appearances, so do they also project those insecurities and fears onto public figures — at this point, this is pretty much common knowledge. The way that people scrutinize and tear apart famous women in particular is really alarming if you pay attention, even when it comes in the form of asking seemingly innocuous questions like: Is Lili Reinhart pregnant? The actress had to shut down rumors on Instagram, and made an important point about what constitutes a "normal," fluctuating body.
Us Weekly reported on Tuesday that fans were speculating that Reinhart was expecting a baby with her recently confirmed boyfriend and Riverdale co-star, Cole Sprouse. Page Six reported that the photo(s) that sparked the rumors were actually taken last month by Cole himself, and featured Lili on a beach wearing a long, white dress. The comment section was filled with inquiries from followers, asking whether Reinhart was expecting. However, the rumors didn't seem to die down, and now followers on Reinhart's Instagram are also addressing the issue.
On a photo that Reinhart posted from the Met Gala on May 8 (where she went public with Sprouse for the first time), some fans shared their support. One said: "I was just looking at your story, tbh it is unfortunate that people think that your pregnant because of your weight and your body... your body is in a perfect shape and your beautiful. Don't let anyone change you."
Another fan added:
I just want to take a little time to support you Lili. What I read in your story made me sad and uncomfortable for you. I'm so sorry for stupid people who allow themselves to criticize your body... Don't listen them queen. No one is perfect and no one should afford to be mean to you, and with everyone... It is not because you are an actress that people can afford to give their opinions on your body, do not listen to them. The perfect body does not exist and each woman is different and beautiful in her way.
Reinhart took to her Instagram Story on Tuesday to share the following powerful message, People reported: "It's unfortunate that one unflattering photo of my stomach circulating the internet causes hundreds of people to think that I'm pregnant. Nope. Not pregnant." She continued to explain that her body, like anyone else's fluctuates, and that's normal: "This is just my body. And sometimes I'm bloated. Sometimes and unflattering photo is taken of me. Sometimes I go through periods of time where I gain weight."
She concluded with a final post in which she explained that she isn't sorry for how she looks on any given day (nor should she be, TBH). "My body is something that I will NEVER apologize for," Reinhart said. "My body will constantly go through change. And so will yours. And that's fine. So let's not put so much time and effort into caring about a stranger's figure."
Reinhart has previously been outspoken about body-image issues. At the beginning of this year, StyleCaster reported that Reinhart addressed a poll that was created to compare her body to another model's. "This is a poll. A competition. A comparison of two bodies. It's a feeding ground for comments of judgement and negativity… It is a perfect way to fuel this delusional idea that it's still okay to put women on a pedestal and compare them," she said.
As far as the recent photos in question go, there's really a lot to unpack, but it can best be summed up by pointing out how telling it is that some would view the photos of Reinhart and presume a pregnancy because her torso didn't appear to be completely flat. It's just a prime example of how conditioned people really are when it comes to how women's bodies do and "should" look.
Reinhart's message is more than just a means of shutting down the rumors: it's a call to action for everyone to recognize that bodies are always changing, and not only is that healthy and OK, it's also important to diversify the concept of what constitutes a normal, healthy woman. Hopefully, with the help of voices like Reinhart's, the cultural narrative can begin to shift even more.