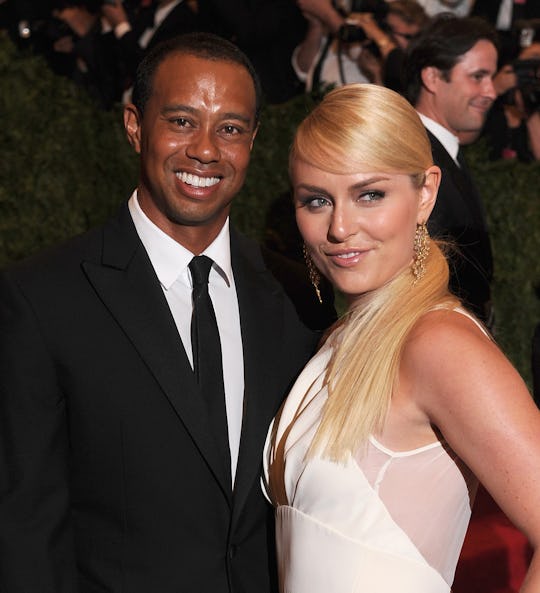 Dimitrios Kambouris/Getty Images Entertainment/Getty Images
After All These Years, Is Olympic Skier Lindsey Vonn Still Dating Tiger Woods?
One of the best things about the Olympics is that you get a chance to learn about so many athletes and their lives outside their sport. Like Team USA skier Lindsey Vonn. Although she's certainly not new to the world of the Olympics, she has made a recent comeback since she didn't compete in the 2014 Olympics because of an injury. And at the time, she was romantically linked to pro golfer Tiger Woods. So now that she's back in the spotlight at the 2018 PyeongChang Winter Games, you might be wondering if Lindsey Vonn is still dating Tiger Woods now after all these years.
Vonn met Woods back in 2012, after his cheating scandal and very public divorce from ex-wife Elin Nordegren in 2010, according to the New York Post. Likewise, Vonn had divorced Thomas Vonn, another skier, in 2011, according to The New York Times. According to Us Weekly, Vonn and Woods started out as friends but then it grew into something a little more.
It was actually kind of a big deal when they first got together. So big, that rumors about her personal life prompted her rep to issue a public statement, as Us Weekly reported, in January 2013 saying that she was training in Europe and "her focus is solely on competing and on defending her titles and thus she will not participate in any speculation surrounding her personal life at this time."
When she tore two ligaments in her knee a month later at the Alpine Ski World Championships in Austria, she flew home on Woods' private jet, as The Sun reported. Their romance grew from there, before they split in 2015, the publication reported, and they haven't publicly dated each other ever since.
Since splitting with Woods, Vonn dated a former Los Angeles Rams coach, Kenan Smith, for a year, but they broke up in November, according to People. There was reportedly no drama, it was just that Vonn was totally focused on training for the Winter Games, which makes total sense. A source close to the 33-year-old told People:
Unfortunately, their busy schedules ultimately took a toll on the relationship. It was amicable and they are still friends. Lindsey is laser-focused on her training for the upcoming Olympics and is leaving the country for several months to start competing.
That doesn't seem to have been the case for Vonn and Woods, whose relationship was "paparazzi catnip," as Sports Illustrated put it. Vonn told the magazine of their very public relationship, "It's hard enough to break up with someone without having to issue a press release about it."
Which is pretty terrible considering she said that she was very much in love with Woods at the time. She said in the same Sports Illustrated interview:
I loved him and we're still friends. Sometimes, I wish he would have listened to me a little more, but he's very stubborn and he likes to go his own way. I hope this latest comeback sticks. I hope he goes back to winning tournaments.
Although the public is always so focused on Vonn's personal life, she has a very fruitful and successful career. Aside from winning medals and kicking butt on the slope, she also runs the Lindsey Vonn Foundation, which is all about empowering young women and providing them scholarships. According to the foundation's website, its mission this year is to fund ski camps for girls and host a speakers series to "inspire confidence."
She told U.S. Ski & Snowboard that the foundation was a dream of hers. "I've always been drawn to kids, but I wasn't able to do skiing and the foundation at the same time. So when I was injured, one of the best things I was able to do was start the foundation," she said. So although her relationship with Woods after that injury was rocky and she had to miss the 2014 Winter Games, Vonn made the best of the tough time she was given.
Just before she got on the plane to head to the games this year, she tweeted to Jimmy Fallon that she was single because her only love was skiing and preparing for the Olympics, so she's really good at setting boundaries for herself when it comes to work.
Now that this might be her last Olympics, she might have even more time to focus on her charity work and whatever else she sets her mind to.
Check out Romper's new video series, Romper's Doula Diaries:
Watch full episodes of Romper's Doula Diaries on Facebook Watch.