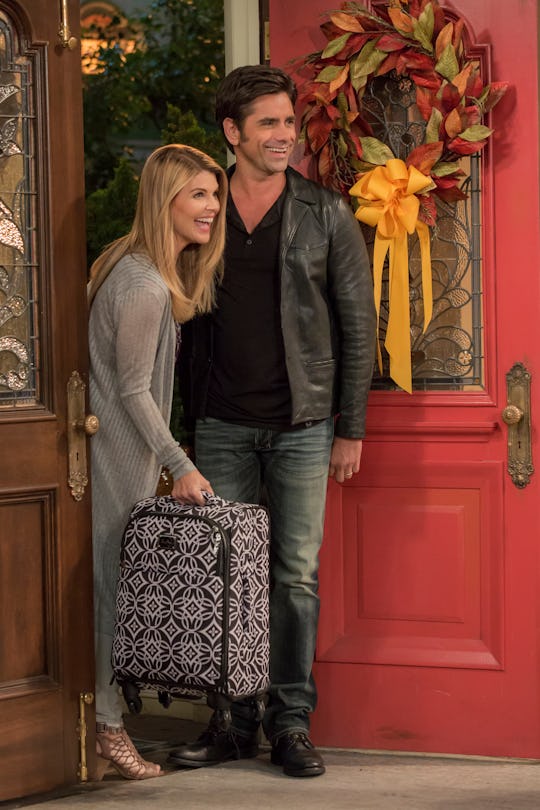 Michael Yarish/Netflix
Fans Can't Get Enough Of Aunt Becky On 'Fuller House'
Fuller House has returned to Netflix in what feels like record time. The reboot first premiered a little over a year and a half ago, and it's already churned out three seasons — well, two and a half. Season 3 is getting split into two nine-episode releases, the first of which just dropped on Netflix. The Sept. 22 premiere date even has a special significance to the show: it's the 30-year anniversary of the original's 1987 ABC premiere. With an expectation of seeing the entire extended family reunite, fans may be wondering: is Lori Loughlin in Fuller House Season 3? Of course, she didn't join the original Full House until Season 2, first as Danny's co-worker Rebecca Donaldson and later, as Jesse's wife and the girls' Aunt Becky. But the world of Full/er House wouldn't be the same without her.
Loughlin will rejoin the cast for Season 3 as a recurring guest star, just like she did in the first two seasons. The way Fuller House is set up, the main story revolves around Stephanie and Kimmy helping a newly widowed D.J. raise her three kids in their old San Francisco townhouse. Danny lives in Los Angeles, where he hosts a national morning show alongside his tried and true co-host Becky. She and Jesse are also still together, and Uncle Joey lives in Las Vegas with his wife and four kids, where he does comedy professionally.
So, since they all live out of town (and some of the actors themselves serve as executive producers on the series) the older generation of parents/uncles only come up to San Francisco every once in awhile for very special guest appearances. We'll definitely see Becky this season, just not in every episode. Presumably, her storyline will revolve heavily around the newest addition to the Katsopolis family: Baby Pamela.
In Season 2, we saw Becky longing for another baby (D.J.'s cute infant son Tommy has that effect on people) now that she and Jesse are empty nesters. (The twins Alex and Nicky have grown into adult beach bums who strike out on their own to open up a fish taco truck in Los Angeles.) Jesse protests on the grounds that he helped Danny and Joey raise three kids and then raised two more of his own; he's done with little kids. Plus, given his age, he worries whether he'd be able to keep up with another teenager in a dozen years. But with the help of Stephanie (and Tommy), Jesse realizes that he loves raising kids and finally relents.
In the Season 2 finale, he introduces everyone to their new daughter Pamela, named after Danny's late wife and the girls' mom, who was killed by a drunk driver a few months after Michelle was born. After a spat between Danny, Joey, and Jesse about who will be named Pamela's godfather, the title eventually goes to Joey and she's welcomed into the family.
It looks like we'll get to hang out with the whole family right off the bat in Season 3. The trailer plays up that it's the 30-year anniversary of the day the Tanners, Katsopoli, and Gladstones first embarked upon becoming a family (back when there was just one sole Katsopolis and Gladstone). Everyone comes back to the house to celebrate, so it looks like we can expect to see Becky fairly early on, likely with Baby Pam in tow.
Since we don't know when the second half of Season 3 drops, we don't know how many episodes Aunt Becky will be in just yet. But Loughlin and John Stamos still have unbelievable chemistry after all these years, so I'm sure production will be eager to showcase them as much as they can.
Watch Romper's new video series, Romper's Doula Diaries:
Check out the entire Romper's Doula Diaries series and other videos on Facebook and the Bustle app across Apple TV, Roku, and Amazon Fire TV.