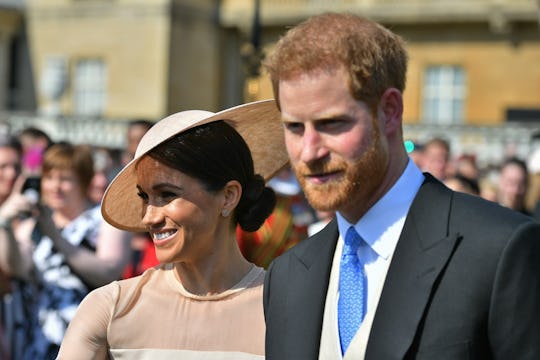 WPA Pool/Getty Images Entertainment/Getty Images
Rumor Has It Meghan Markle Is Helping Prince Quit Some Bad Habits
The love story of the Duke and Duchess of Sussex already has the patina of one of those fabled romances we all remember from our childhood. The handsome prince and the beautiful woman from across the sea coming together against all odds. I would buy that storybook every day of the week, my friends. But theirs is a modern fairy tale as well: Meghan Markle is a feminist with a mind of her own who wasn't rescued by Prince Harry. Quite the opposite, in fact; it seems she's helping him get healthy, which begs the question, is Meghan Markle a vegan?
Not that being a vegan is the only reliable way to get healthy of course, as Markle can attest to. Sure, she might be a former actress on Suits who is clearly in enviably good shape, but the Duchess still indulges every now and then, apparently. According to a 2016 interview she did with Best Health magazine, Markle is a vegan during the week but indulges a little on the weekends. As she said in the interview, "I try to eat vegan during the week and then have a little bit more flexibility with what I dig into on the weekends. But at the same time, it's all about balance."
And she is apparently helping her husband find that same balance in his life these days.
A source close to the couple told People that Markle has been helping Prince Harry get healthier:
Meghan is a beautiful influence on Harry. They both worked hard to be the healthiest they could be before they got married.
As royal watchers might remember, Prince Harry was a bit of a wild man in his pre-Markle days. He was a bachelor who liked a good party which was totally fine, but Markle (who has been doing yoga with her yoga instructor mom Doria Ragland since she was seven years old) has changed all of that, according to People:
Meghan encouraged Harry to get rid of any remnants of his party lifestyle. She wanted him to get in shape and be healthy.
To that end, Markle has reportedly helped Prince Harry to quit smoking and enjoy a healthier diet. But that doesn't mean the couple have completely sworn off meat. In fact, the couple said in an interview with the BBC that they were enjoying a cozy night and roasting a chicken when Prince Harry proposed.
Markle is a self-proclaimed foodie, as she noted in her 2016 interview with Best Health, and tries to find a good balance between exercise and indulging every now and then.
Because I work out the way I do, I don't ever want to feel deprived. I feel that the second you do that is when you start to binge on things. It's not a diet; it's lifestyle eating.
And there's one thing she's not giving up; a nice glass of wine.
The same goes for wine. Of course I'm going to have that glass of wine – it's delicious and I enjoy it. Do the things you enjoy within reason. Know your body and what works for you and you'll be fine.
So here is what I like to picture now; Meghan Markle getting the royal family together for morning yoga practice in the gardens at Buckingham Palace. Queen Elizabeth might be able to do some chair yoga or something, and of course the Duke and Duchess of Cambridge will be great at it. Then they can all enjoy a green smoothie afterwards together.
Because Prince Harry didn't swoop in on his white horse to save Meghan Markle; she swooped in to save him and keep him healthy.