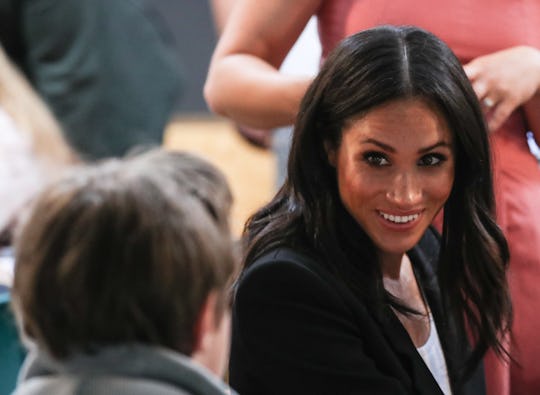 Pool/Getty Images Entertainment/Getty Images
Unfortunately, We Likely Won't Be Seeing Duchess Meghan At The Emmys
When Meghan Markle, Duchess of Sussex married Prince Harry, Duke of Sussex, she officially moved on from her acting career to life as a royal. However, Hollywood is not quite done with her yet. And with the Emmy Awards around the corner, the former actress has fans wondering: Will Meghan Markle go the Emmys?
Meghan played paralegal-turned-lawyer Rachel Zane on USA's Suits for seven seasons. Even though she never received an Emmy nomination for her work on the show, she still got an invitation (with a plus one for Harry, of course) to attend the awards show this year, The Sun reported. The Emmys will be broadcast live on NBC on Monday, Sept. 17, at 8:00 p.m. ET/5:00 p.m. CT, according to the Emmys website. The show will be filmed live from the the Microsoft Theater in Los Angeles, which is a pretty long flight from Meghan's new home in England. Considering that, coupled with Meghan's royal status and security requirrements, it makes sense that she is reportedly not attending the Emmys this year. Womp-womp.
"We had hoped Meghan would attend as a way of saying goodbye to her Suits fans and colleagues," anonymous sources from Los Angeles reportedly told The Sun. "Show executives and NBC had offered Harry and her an invitation to celebrate with the biggest stars around, meet her showbiz friends and even present an honour ... But Meghan is not attending."
Even though she did not receive a nomination, Meghan's role on Suits did qualify her for consideration in the Supporting Actress in a Drama Series category, The Sun noted. As per a full list of Emmy nominations published by Vox, Suits did not receive any nominations at all this year. Even though the show was not nominated, the whole cast was still invited to the awards show, according to The Sun.
In Meghan and Prince Harry's first joint interview, which was conducted by BBC News in November shortly after the couple announced their engagement, Meghan revealed that she was leaving her acting career. "I don't see it as giving anything up. I just see it as a change. It's a new chapter," she said in the interview, Harper's Bazaar reported at the time. "And keep in mind I've been working on my show for seven years. We were very fortunate to have that sort of longevity on a series. For me, once we hit the 100 episode marker, I thought, I have ticked this box and I feel really proud of the work we've done there and now it's time to work as a team with [Harry]."
Even though Meghan is reportedly skipping the ceremony this year, she could always wind up attending in the future. After all, high-profile celebrities often make up a large portion of the audience at major awards shows, so it might even be easier for Meghan to attend the Emmys than, say, an Off-Broadway play. Plus, she grew up in Los Angeles, so it would make sense for her to travel back to her hometown. Not to mention, Meghan's passion for acting has always been clear — especially her passion for playing an ambitious character like Rachel Zane. In a June 2015 interview with The Aesthete, Meghan said:
I don't necessarily see it as being a man's world – the partner of the firm, who would typically have originally been written as a white male, is a black Cuban woman played by Gina Torres. What I love about my character specifically is she has incredible intellectual prowess. She's pretty ambitious in terms of her career. It is endlessly more interesting personally for me to play that character, especially when it's seen as a role model, rather than to just be some fluff character that wiggles around in a pencil skirt.
Here's hoping Meghan and Harry at least have the night off on the 17th so they can tune into the Emmys!