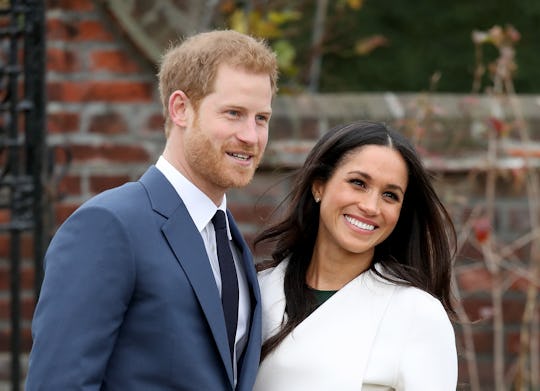 Chris Jackson/Getty Images Entertainment/Getty Images
Meghan Markle Actually Isn't The First American To Marry Into The Royal Family
When Prince William and Kate Middleton got married back in 2011, excitement over the royal wedding filtered from Britain to the United States, because beautiful, lavish, fairytale-esque royal weddings are a big freakin' deal. And Americans have even more of a reason to go nuts over Prince Harry's upcoming marriage, because his bride, actress Meghan Markle, is actually one of us. Holy crap, right? While Markle is not the first American to marry into the royal family, the last time such a marriage took place was so long ago that it certainly seems that way to many Americans today. What's more, it's clear that Markle's transition into Britain's most famous family — and her relationship with her in-laws — will be much less tumultuous than her predecessor's experience.
The royal family announced the couple's engagement Monday, sharing that their wedding would take place in spring 2018. When the so-far unspecified date comes, the Los Angeles native will become the first American to marry a member of the royal family since American socialite Wallis Simpson in 1937. King Edward VIII actually had to abdicate the throne in order to marry Simpson, because her status as a two-time divorcée violated the Church of England's doctrine on the subject. So, the couple married in France six months after the king left the throne. They lived outside of Britain, mostly estranged from the royal family, until his death in 1972, Reuters reported at the time.
Markle, coincidentally, is also divorced, having been married to American film producer Trevor Engelson from 2011 to 2013. But times have changed, so she and Harry — who is fifth in line to the throne — won't have to live in exile. Quite the opposite. Harry will likely be named a Duke when he and Markle wed, which means that the couple would become the Duke of Sussex and HRH (Her Royal Highness) the Duchess of Sussex, royal historian Marlene Koenig told Royal Central. That may sound familiar as Harry's brother, William, and his wife took on the titles of The Duke of Cambridge and the Duchess of Cambridge when they wed.
If Harry, for some reason, is not ultimately named a duke, Markle would have to literally take his name (which is actually Henry), making her "HRH Princess Henry," CNN reported. That sounds less than ideal, and it's something that Simpson — whose official title was Her Grace The Duchess of Windsor but unofficially went by Her Royal Highness, according to Business Insider — never had to do.
If Simpson had been welcomed into the royal family at the time that she married the former king, she would have been the Queen of England. That, undoubtedly, sounds pretty cool to many Americans, but perhaps it's much better that things didn't end up shaking out that way. Both the former king and Simpson were reportedly Nazi sympathizers, The Independent reported. The two of them even reportedly traveled to Germany in 1937 to meet with Adolf Hitler himself. "Edward reportedly wanted to discuss becoming a figurehead for an international movement for peace on Hitler's terms," The Independent's Lizzie Dearden wrote, and Simpson very much want to become Queen.
Markle, on the other hand, is known for her charity work, such as serving as an advocate for UN Women. She recently wrapped up filming after seven seasons starring in the USA Network legal drama Suits to move to London to be with her now-fiancé.
So, Markle is not technically the first American to marry into the royal family, but she is surely the most well-received. Congratulations to the happy couple!
Check out Romper's new video series, Romper's Doula Diaries:
Watch full episodes of Romper's Doula Diaries on Facebook Watch.