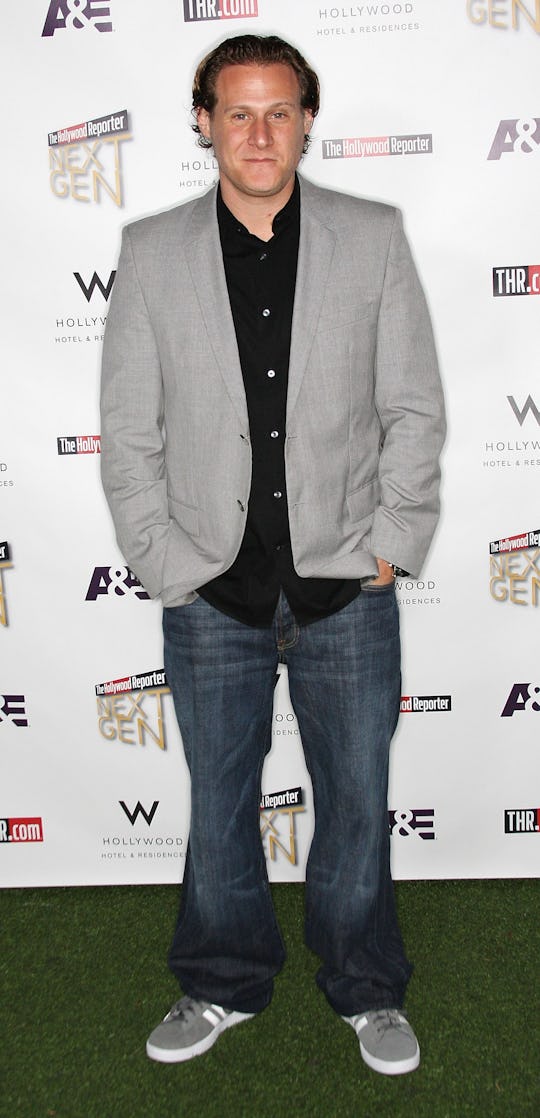 Frederick M. Brown/Getty Images Entertainment/Getty Images
Don't Expect To Spot Meghan Markle's Ex-Husband In The Royal Wedding Crowd
An invite to the royal wedding is arguably the hottest ask in the world, and it was fun trying to guess who would be in attendance while waiting for the day to arrive. Now that the royal wedding is upon us, we can all finally confirm if our predictions came true. One person more than one person was wondering about was whether Meghan Markle's ex-husband was at the royal wedding.
Markle's ex-husband, Trevor Engelson, didn't make the invite cut and wasn't at the royal wedding. USA Today reported in the months leading up to today that "Markle's ex-husband, producer Trevor Engelson, is not expected to receive an invitation." Womp womp. The television producer was married to Markle for two years from 2004, and their marriage allegedly ended due to irreconcilable differences, reported Town & Country magazine.
However, Engelson was probably somewhere watching the royal wedding, at least for research purposes. Deadline, a publication that deals with television and movie news, shared the pitch for Engelson's latest project that's being developed for Fox: "Divorce is hard. Sharing custody is harder. Sharing custody with the British Royal family when your wife marries a prince, in the unforgiving spotlight of London's tabloid media, is next level."
Deadline did point out, however, that "the comedy is fictional, the lead characters are not based on Markle or Engelson, who have no kids together," but if they had had kids together before today's royal wedding, things would certainly have been quite a lot more complicated. Engelson actually has two series in production currently for which he is executive producer, according to Deadline: Snowfall at FX and the upcoming dramedy Heathers. So while you may not be familiar with his name, haven't exactly heard of Engelson and his celebrity pales in comparison to Meghan's or Harry's, he's got cachet in the media world.
Now that we know Engleson wasn't there, who was? While I loved the idea that the Obamas might make an appearance, they didn't make the list. However, Meghan's close friend Serena Williams and her husband, Reddit cofounder Alexis Ohanian, were there, as was a few cast members of Meghan's television show, Suits. Elton John and Quantico star Priyanka Chopra also took part in the festivities.
But the couple didn't just pack the royal wedding guest list with the fancy people. 2,640 members of the public were invited to be inside the grounds of Windsor Castle. The official website for the royal family announced that these guests would be invited to watch the procession of the bride to the St. George's Chapel, and the recessional as the married couple leaves. Here's a snippet of who made up the crowd to watch the procession: "1,200 members of the public from every corner of the United Kingdom will be nominated to attend by nine regional Lord Lieutenant offices. The couple has asked that the people chosen are from a broad range of backgrounds and ages, including young people who have shown strong leadership, and those who have served their communities." That was an inclusive start, now, wasn't it?
In addition, and in an effort to help the public feel a part of the royal wedding celebration, Meghan and Harry invited 200 people from a range of charities and organizations which they have a close association with, 100 pupils from two local schools, 610 Windsor Castle community members, and 530 Members of The Royal Households and Crown Estate.
According to the royal website, "Prince Harry and Ms. Meghan Markle have said they want their wedding day to be shaped so as to allow members of the public to feel part of the celebrations too." So far so good on that count. We've definitely enjoyed it, even from thousands of miles away!