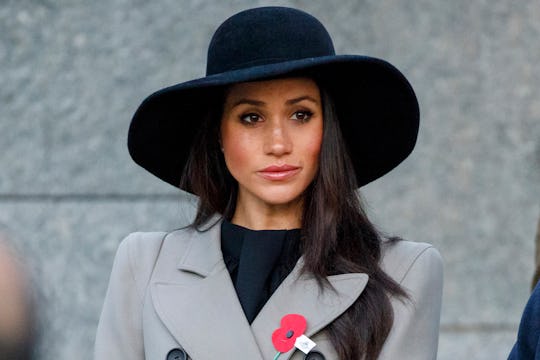 WPA Pool/Getty Images Entertainment/Getty Images
Meghan Markle Is Bending Tradition To Make Sure Her Mom Has A Formal Role In The Royal Wedding
Traditions have made anticipating what's going to happen at Prince Harry's and Meghan Markle's May 19 wedding a little more complicated, particularly for those unfamiliar with the royals. In most cases, it's absolutely fair to expect that the bride and groom would pack their wedding with people from their families, including parents. But, what about their roles in the ceremony? People are likely wondering if Meghan Markle's mom is in the royal wedding and, if so, what will she be doing?
Recently, the palace confirmed that Markle won't have a maid of honor at her wedding. And, since the wedding party for royals is typically made up of relative's children as pageboys and bridesmaids, she will instead have a few friends along in unofficial roles. It's one thing for friends to come along on an unofficial capacity, but what about your own mother?
Markle's parents, Doria Ragland and Thomas Markle, divorced when she was only 6 years old. According to The New York Times, following her parents' separation, Markle was largely raised by her mother, who is a yoga instructor and social worker. Past tradition dictates that the role of the bride's mother is typically reserved; she usually remains in the background. The ceremonial role goes to the bride's father who, as most people are familiar with, walks her down the aisle.
In a slightly split from tradition, Markle apparently decided sitting quietly in the background wasn't all that her mother deserved, and lobbied to create a role for her, as The New York Times reported.
Now, Markle's mother will ride with her daughter to St. George's Chapel, according to The New York Times. From there, her father, Thomas Markle, will still walk her down the aisle. All in all, it's a small departure from tradition, but clearly meaningful. "It's always been the father," Dickie Arbiter, a former spokesman for Queen Elizabeth II, told The New York Times. "In a wedding, the mother doesn't have a role. Meghan is making sure her mother does."
On what's supposed to be the happiest day of somebody's life, it's obviously important that they are able to share it with whoever they wish. While Markle clearly went with tradition in some aspects of the wedding, it's heartwarming to see how she went out of her way to ensure her mother would have an official role in the wedding.
It's also somewhat historical. Markle is of mixed race and has spoken about it briefly in the past. In an article ELLE originally published in 2015, Markle wrote, "My dad is Caucasian and my mom is African American. I'm half black and half white. ... I have come to embrace [this and] say who I am, to share where I'm from, to voice my pride in being a strong, confident, mixed-race woman."
The inclusion of Markle's mother, who is African American, in the royal wedding is definitely historical. In the past, Markle has received poor comments in the media, with The Guardian reporting an article that once stated, "Obviously, 70 years ago, Meghan Markle would have been the kind of woman the Prince would have had for a mistress, not a wife."
Markle, as the daughter of an African American woman, won't fix British history of anti-Blackness solely by marrying into the royal family. It would be unfair and unrealistic to expect that from her. But, the wedding has definitely prompted conversation, and hopefully Markle's mother will be spared from any negative commentary. She deserves to be able to celebrate her daughter in peace without worrying about anything extra.
The date of the royal wedding is coming up quickly, with less than two weeks left to go. Names of everyone involved in the wedding party will be released shortly before May 19. And it'll definitely be fun to keep an eye out for Markle's mother when the day comes.
Check out Romper's new video series, Bearing The Motherload, where disagreeing parents from different sides of an issue sit down with a mediator and talk about how to support (and not judge) each other's parenting perspectives. New episodes air Mondays on Facebook.