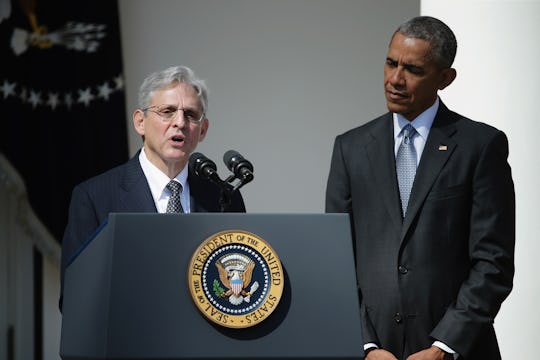 Chip Somodevilla/Getty Images News/Getty Images
Is Merrick Garland Conservative Or Liberal? What His Record Says About Him
Now that President Barack Obama has put forth his Supreme Court Justice nomination, it's time to get to know a little more about Judge Merrick Garland. Particularly since this nomination is already proving to be contentious among Senate Republicans who have already pledged to oppose any nominee Obama puts forth. But will they find Garland harder to oppose based on his record as a moderate centrist? Is Merrick Garland a conservative or a liberal?
Garland, chief judge in the D.C. Circuit Court of appeals, has had prior support from Republicans. When he was confirmed to his current post in 1997, the White House noted that he was supported by seven sitting Republicans. In fact, back in 2010, when Garland was considered for a Supreme Court seat, Utah Sen. Orrin G. Hatch, referred to Judge Garland as a "consensus nominee." When asked if Garland would win bipartisan support, Hatch was quoted as saying, "No question."
According to NPR, Garland has "more federal judicial experience than any other Supreme Court nominee in history," a White House official said. "No one is better suited to immediately serve on the Supreme Court."
But what does his record on the bench really tell us about Garland?
One sticking point with conservatives could be Garland's liberal gun stance. In 2007, he voted in favor of reviewing a law that included a requirement to keep guns unloaded and disassembled unless they were being used for recreation or for business purposes. The main issue was the prohibitive nature of the law regarding people having functioning weapons in their home for protection, and it had already been shut down as unconstitutional. While Garland simply wanted the law to be reviewed rather than moving to have it overturned, conservatives may not look too kindly on his decision.
In another case in 2000, NRA v. Reno, Garland voted against the NRA (National Rifle Association). The NRA were against the decision to allow the Justice Department to retain records of gun ownership, citing that the policy was illegal and that the Clinton-era government was attempting to create a national gun registry.
This decision did not sit well with Judicial Crisis Network chief counsel Carrie Severino, who leads the campaign to block any SCOTUS nomination made by Obama. Severino wrote a criticism of Garland for the conservative magazine the National Review saying,
Garland thought all of these regulations were legal, which tells us two things. First, it tells us that he has a very liberal view of gun rights, since he apparently wanted to undo a key court victory protecting them. Second, it tells us that he's willing to uphold executive actions that violate the rights of gun owners. That's not so moderate, is it?
On the other side of the aisle, Garland's conservative rulings are considered by some to be cause for concern. While the general feeling appears to be that Obama made a deliberate choice that would be more difficult for conservatives to oppose, some of Garland's decisions are considered troubling. He joined in a ruling to prevent Guantanamo Bay detainees from seeking justice in the U.S. Court system during the George W. Bush administration. According to the Washington Post, law professor Herman Schwartz said,
It meant that nothing that happened to those prisoners — whether it was abusing them or holding them indefinitely — would ever be subject to the rule of law. For the executive branch to have that kind of power over a person is unconscionable. And for a judge to accept the total irrelevance of the rule of law is a betrayal of that judge's obligation to uphold the Constitution and this nation's ideals.
Tom Goldstein, political analyst and Supreme Court litigator, noted on the SCOTUSblog that, "most striking, in 10 criminal cases, Garland has disagreed with his more-liberal colleagues." He often favored the government or he didn't want to reach an agreement when the majority of the court "had adopted a position favorable to a defendant," according to the blog. Goldstein noted, "because disagreement among panel members on the D.C. Circuit is relatively rare, this substantial body of cases is noteworthy."
It seems Garland could be considered a liberal and a conservative, depending on the case. Whether this will help him in his bid to become a Supreme Court Justice will become clear soon.