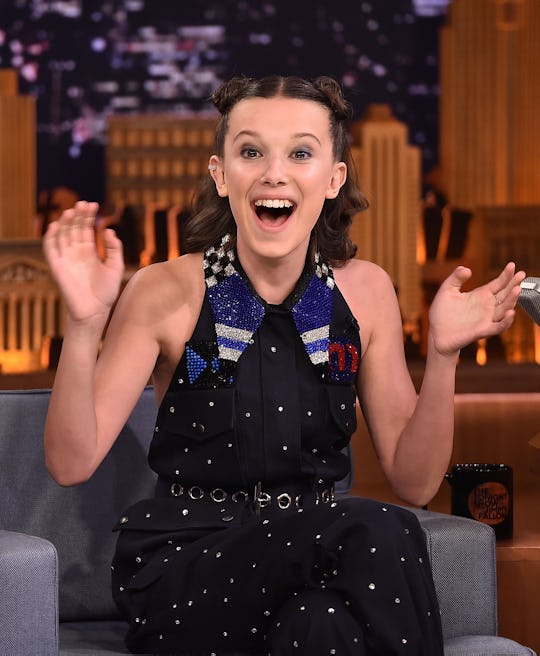 Theo Wargo/Getty Images Entertainment/Getty Images
Fans Want To Know Where Millie Bobby Brown Is At The 2018 Golden Globes
From black dresses to #TIMESUP pins to other acts of solidarity with women of the #MeToo and #TIMESUP movements, there were more than a few things to look for on the Golden Globes Red Carpet this year. But viewers were growing anxious after a fan-favorite was a no-show during early red carpet coverage. So, is Millie Bobby Brown at the 2018 Golden Globes? According to her Instagram, there's no reason to fret. She's just fashionably late, darlings.
During red carpet coverage, Bobby Brown posted a short video to her Instagram account, showing an elevator open and a laid back, yawning, dresses-to-the-nines Bobby Brown taking her sweet, sweet time. And if the comments on her post are any indication, her fans are having absolutely none of it. "WHERE R UUU!!!?!?!?!?!?!" posted one Instagram user. "CMON WE WANT TO SEE YOU" posted another. "WHERE ARE YOU BABE IM HYPERVENTALATING," said another fan. So, you know, Bobby Brown has a group of dedicated admirers who would very much like to see her walking down the red carpet as soon as humanly possible. Patience is a virtue, some may say. But in Hollywood, or at least those on the outside of Hollywood looking it, it's just an inconvenience. Duh.
And perhaps it's less about seeing Bobby Brown, and more about seeing what she's going to wear. With the #TIMESUP movement taking over the Golden Globes Red Carpet, and entertainment's most powerful celebrities wearing all black in solidarity with the women who experience workplace inequality, sexual assault, and harassment, perhaps fans are wondering if Bobby Brown is going to follow suit. The rest of the cast of Stranger Things, including David Harbour, Winona Ryder, Finn Wolfhard, and Sadie Sink all wore all black, for example. But if Bobby Brown's post is any indication, the answer is no.
In her Instagram post, the actress is shown wearing what looks to be a light purple, off-the-shoulder, knee-length gown. Of course, wearing black isn't the only way someone can show solidarity with those trying to evoke substantial change in workplaces across the country (in fact, that's the bare minimum anyone should do) so fans shouldn't judge Bobby Brown and her fashion choices right away. Or, you know, at all. And, of course, fans will have to wait until she actually shows up to see what she actually decides to wear.
UPDATE: Millie Bobbie Brown did arrive on the red carpet, wearing a black dress with a low v-cut in the back with trimmed ruffles. In other words, she stood in solidarity with the millions of women across the country, and she looked absolutely stunning.
Surprisingly, Millie Bobby Brown wasn't nominated for a Golden Globe this year, a snub that fans the world over were none to happy about, as you can imagine. And perhaps what's even more surprising, despite her insane talent she only has two awards under her belt: a Screen Actors Guild Award for Outstanding Performance by an Ensemble in a Drama Series, and a 2017 MTV Movie & TV Award for Best Actor in a Show. Don't worry though, you guys. I mean, Bobby Brown is 13-years-old. She has plenty of time to bring some hardware home; something she will undoubtably do in her sure-to-be long career.
So honestly, with no nomination and plenty of celebrating ahead of her, let us collectively allow the young actress to take her sweet, sweet time making her way to the show this evening, yes? Sure, I get that it's exciting to see your favorite actor and/or actress walk the red carpet and answer the countless questions TV hosts are sure to ask, but be patient and give this young celebrity some time. I, for one, can't imagine what goes in to preparing to have several cameras in your face for hours on end, so if chilling in an elevator and posting on Instagram prepares Millie Bobby Brown for the circus ahead, I say: so be it.
Check out Romper's new video series, Romper's Doula Diaries:
Watch full episodes of Romper's Doula Diaries on Facebook Watch.