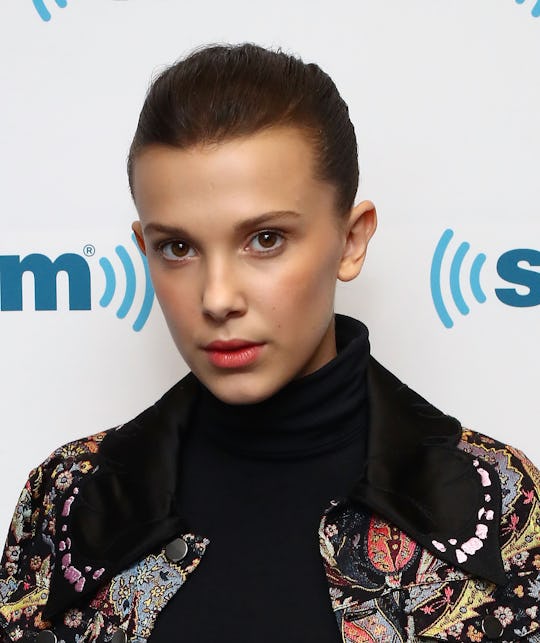 Astrid Stawiarz/Getty Images Entertainment/Getty Images
Millie Bobby Brown Deserved Some Golden Globe Recognition
There are some shows that you expect to clean house when it comes to awards show season and for many avid TV watchers, that's easily Stranger Things. So it was no surprise that David Harbour was nominated for his role as Jim Hopper, but since Eleven didn't seem to get much love, was Millie Bobby Brown snubbed for the 2018 Golden Globes? Her Stranger Things performance was impressive this season, so it's hard to understand why she didn't get a nomination.
Surprisingly, the young actress only has two awards under her belt at the moment. One of them is the Screen Actors Guild Award for Outstanding Performance by an Ensemble in a Drama Series and the other was a 2017 MTV Movie & TV Award for Best Actor in a Show. So we all know that she's been recognized already for her work in the breakout Netflix series. But for the 2018 Golden Globes nominations, Brown was noticeably absent from the list, though Harbour did get a nod because of his much larger role for Stranger Things Season 2.
As a whole, though, Harbour was the only actor from the series to get a nomination this time around, so Brown wasn't the only actress from the series who didn't get recognition for Season 2. If you think about her performance for the duration of Stranger Things Season 2, though, it's pretty clear that she was snubbed, because she definitely deserves some love from all award shows.
Being that this was only Brown's second season and second time around with the Golden Globes at all, there's still plenty of time for her to gain some big nominations in the future. And as it stands, she did receive an Emmy nomination in 2017 for her role in Stranger Things, so the Golden Globes probably aren't too far off for her. Then again, looking at her performance as a more confused and struggling Eleven in Season 2, it's still very surprising that Brown didn't get any kind of acknowledgement, especially since Harbour did for his role and the show received a nomination as a whole for Best Drama.
Most recently, the Golden Globes hasn't awarded or even nominated many child actors, so it could just be the influx of amazing TV talent overpowering any of the young up and coming child actors who need recognition. This is a time of seriously great TV on both streaming platforms and network television. With those TV shows comes a tons of actors and actresses, so in that regard, they likely overshadowed Brown's Stranger Things performance for the 2018 Golden Globes, as amazing as it may have been.
When Brown was nominated for a 2017 Emmy, she spoke to The New York Times about the recognition given to both her and Stranger Things and about her own admiration of the series in general. So I'm sure I'm taking her lack of a nomination worse than she is, but still. She totally deserves all of the nominations and awards out there, so it's a shame she missed out. "I'm so happy for the show. The show completely deserves it. The show is 10 times more amazing than my nomination," Brown said at the time. She also said that upon hearing the news from her publicist about her first Emmy nomination ever, "I was just in shock. I thought she was going to call saying, 'Ah, better luck next time,' or something like that. But she said congratulations."
Unfortunately, there will be no such call for this particular awards show, but since Stranger Things was officially renewed for a third season, getting snubbed this year doesn't rule out Brown for a possible nomination next time.
Check out Romper's new video series, Romper's Doula Diaries:
Watch full episodes of Romper's Doula Diaries on Facebook Watch.