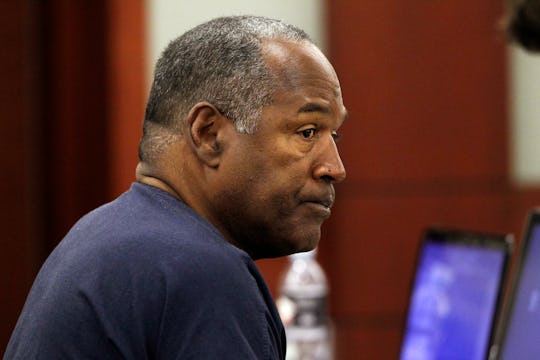 Pool/Getty Images
Is O.J. Simpson Watching 'The People v. O.J. Simpson?' He May Not Be Able To Tune In At All
The People v. O.J. Simpson, FX's first installment of a new series, American Crime Story, comes at a moment in history when news seems stranger than fiction. It's the latest in a wave of true-crime shows that rivet and revolt audiences by revisiting long-closed cases. The O.J. Simpson murder trial was an iconic moment in American history not only because of its bizarre turns, but also because of its intersection of race, class, gender, and fame, all played out in the public eye. Though it is a dramatization of the event, the drama closely follows true accounts. Given what we know so far, one has to wonder: is Simpson himself watching The People v. O.J. Simpson?
The funny thing about these kinds of shows is that viewers already know the ending. There are no spoilers. It's all about the twists and turns along the way to what anyone watching knows will happen: O.J. walks, then years later, O.J. goes to prison for a completely unrelated crime. All that said, the writers of the show, Scott Alexander and Larry Karaszewski, managed to pull off something very clever with The People v. O.J. Simpson.
Even for someone who knows everything about the case, or who was following the news at the time, will be pulled in by the relatively new revelations. It's chronological, but it's not just a dramatization. It's a curation of a moment in history that begins with footage of police brutality against Rodney King. For younger viewers who know nothing about the case, the show is equally appealing, with its star-studded cast including John Travolta, Eddie Murphy, Cuba Gooding, Jr., and more, taking on serious roles to bring what happened behind the scenes to life.
As for Simpson (nicknamed "the Juice" for obvious reasons), where did his fame take him? The retired football player, actor, broadcaster, and convicted felon is currently incarcerated at the Lovelock Correctional Center in Nevada. He's serving 33 years for an armed robbery and kidnapping, after successfully walking away from a murder charge years earlier, one which had kept the country glued to its television sets for months.
The People v. O.J. Simpson is based on one of the most troubled phases of the former athlete's life. Even if he could finagle a viewing from his high security prison cell, would he want to relive it? It's hard to say. If there's one thing that comes through clearly from The People v. OJ Simpson, it's that he's unpredictable.