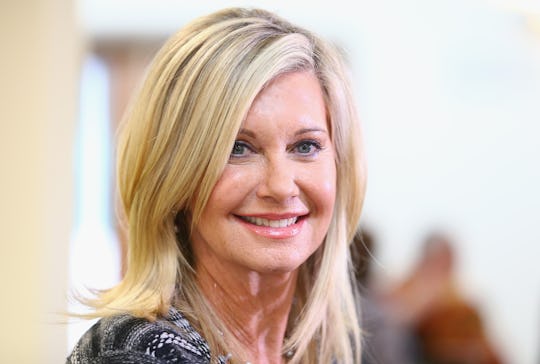 Robert Cianflone/Getty Images
Is Olivia Newton-John Watching 'Grease: Live!'? The Original Sandy Was Quiet On Twitter At First
It's almost here: FOX's televised revival of Grease is airing Jan. 31., and the anticipation surrounding it really can't be overstated. If the whole thing is evoking vivid memories of '80s and '90s sleepovers (and wishing said sleepovers were more like what went down at Frenchy's house), you're not alone. One question you may have, though, as you watch Julianne Hough and Aaron Tveit fill the iconic roles of Sandy and Danny is whether the OG Grease movie cast is watching. Is John Travolta tuning in? Is Olivia Newton-John watching Grease: Live!?
According to original Grease cast member Eddie Deezen, Newton-John was not the first choice to play Sandy. Susan Dey of The Partridge Family was the first choice, Deezen said, but her manager advised her to say no. According to a 1978 People profile, Newton-John landed the role of Sandy after she met co-producer Allan Carr at a dinner party. At the time, she had an award-winning music career but relatively little acting experience. The film became a huge box office hit, grossing $58 million in its first month (a big haul at the time). Newton-John got equal billing with John Travolta but was reportedly paid only $125,000 for her role. Newton-John told People that it had been important to her not to make innocent Sandy a doormat. "I was playing a naive girl, but I didn't want her to be sickly. I kept trying to give her a little strength," she said.
Since the FOX revival was announced and Julianne Hough was cast in Newton-John's role, the original Sandy has shown that she isn't territorial about the character. In an interview with Billboard this week, Newton-John had a message for Hough in taking on the role is, "Bring yourself to it. There's no reason to try and copy anyone else. You've got your own style so do it in a new way." Hough also told Variety that Newton-John told her, "You're a perfect Sandy!"
So now that the baton — er, pink monogrammed jacket? — has been passed, is Olivia Newton-John watching to see what Hough and the rest of the new cast bring to the role?
Twenty minutes into Grease: Live! airing on the East Coast, there was no sign on Twitter that Newton-John was watching, but that was likely because the show hadn't aired yet in Las Vegas, where she is in the middle of a run of her one-woman show Olivia Newton John: Summer Nights at the Flamingo. But at 8:13 p.m. she chimed in, tweeting and posting on Facebook:
If that's not the ultimate vote of confidence, I don't know what is. Now let's hope Newton-John chimes in again with the original on-screen Sandy's thoughts on Hough's take on the role.
In the meantime, I'm imagining Newton-John kicking back on her couch with some popcorn and red wine toasting the new crew and remembering where it all started. There have been and will be many Sandys, but hers was iconic. Knowing that has to feel preeetttty good.