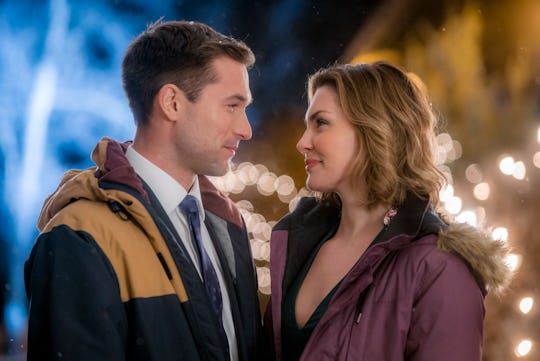 Steven Ackerman/Hallmark
The One Hallmark Movie You Need To See This Weekend
Just because the holidays are over doesn't mean that Hallmark is done giving you all of the best TV romance movies to binge while the snow piles up outside. Next up is One Winter Weekend, which premieres on Jan. 20. But is One Winter Weekend based on a true story? The Hallmark movie is another snowed in tale of unexpected romance that turns out to be exactly what the main characters needed all along.
The story centers around Cara, a women's magazine writer who gets dumped by her boyfriend on New Years' Eve and decides that she should go on a dating detox. Naturally, her boss thinks it would make for a great story, so Cara heads to a ski resort in the hopes that the seclusion will help her get inspired. But after the place gets double booked, she finds herself crossing paths with a handsome entrepreneur named Ben. You can imagine what happens next.
Sounds like something out of a fairytale, right? With that in mind, it shouldn't be all that surprising to learn that no, this movie is not based on true events. It was, however, written by a writer who has worked with Hallmark before, so you know it's bound to give you some of the same romantic feels, and that's the whole point of these Hallmark romance movies anyway. Erinne Dobson has worked with the TV shows Baby Daddy and Last Man Standing, but she recently wrote the 2017 Hallmark movie The Sweetest Christmas, starring Lacey Chabert. That one was another magical TV movie full of romance, snowy fun, and a little bit of comedy thrown into the mix.
But again, it is a completely fictional Hallmark movie, as most of them tend to be, however much we might all want those adorable love stories to be true.
I suppose the most unbelievable part for me is how Cara and Ben are accidentally booked in the same cabin together, which would literally never happen in real life. Or, if the resort did make such a terrible error, the problem would be fixed right away. They wouldn't have to keep on staying with each other. It's a classic Hallmark move.
But even if some parts are less than believable and force you to suspend your disbelief, I don't think many of us watch Hallmark movies for real life scenarios. Viewers want to be swept up in these whirlwind romances that seem too good to be true. So even though One Winter Weekend isn't based on a true story, it still does its job in telling the kind of story viewers have come to expect and look forward to with these TV movies.
In the past, some Hallmark movies have been based on novels or inspired by them, like 2016's The Mistletoe Promise or 2017's The Christmas Cottage. But they're still fictional and, for the most part, this particular brand of made-for-TV movies isn't necessarily meant to draw inspiration from real life. Mainly because in real life, not many royal romances happen overnight. (OK, not counting Prince Harry and Meghan Markle.) But that's the fun of these movies.
No one is expecting any real life hurdles to come between the characters who tend to find love when they least expect it, and I'm pretty sure that's how we all prefer it to be with Hallmark movies. They certainly don't have to be based on true events or factual in any way in order for viewers to fully enjoy them.
Check out Romper's new video series, Romper's Doula Diaries:
Watch full episodes of Romper's Doula Diaries on Facebook Watch.