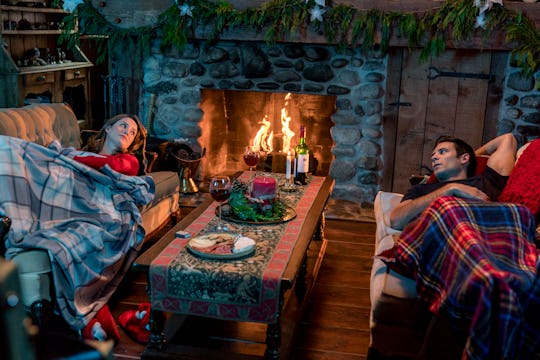 Hallmark/Ricardo Hubbs
Hallmark's 'The Christmas Cottage' Is Another Must-See Love Story
By now, the Hallmark Christmas movie formula is tried and true, so there's no use in trying to change it. In fact, watching a reluctant and anti-Christmas protagonist fall in love and live happily ever after is what we all look forward to with these movies, so it's easy to welcome new additions each season, like The Christmas Cottage, which is also based on a novel of the same name. But is The Christmas Cottage based on a true story? It's another relatively predictable holiday love story churned out by Hallmark to make you all warm and fuzzy inside as you switch between Hallmark Christmas movies and Freeform's 25 Days of Christmas, but unsurprisingly, it's not based on real events.
It is, however, based on romance author Stacey Cotrufo's novel (who goes by the pen name of Samantha Chase), and to her, it was a long time in the making. Cotrufo spoke to The News & Observer in December and revealed that although there were plans to make her novel into a movie in 2016, it took almost two years to actually complete. "It's very exciting that it's actually happening," she told the newspaper in an interview. "We were approached in 2016, and movies move very slowly, so it's been 18 months. That's hard when you're impatient."
The Christmas Cottage is your traditional Hallmark Christmas movie with all of the romantic trimmings. Lacey Quinn, who doesn't believe in the "magic" of her family's Christmas cottage, must decorate it in time for her best friend's wedding night with the help of her best friend's hunky brother. The two get snowed in and — you guessed it — love ensues. But, of course, not before there are likely some scenes of distrust, disinterest, and general cold shoulders on one of both of their parts. And although it's pretty close to the novel it's based on, The Christmas Cottage does include some differences to spice it up a bit as a TV movie.
"I know they changed it quite a bit," Cotrufo said in the same interview. "I would like to say I'm okay with it, but that's your baby. It's the first book that got my name out there, my first big hit. But they follow a formula that they know works for them… But the basis of it is still there."
But, according to Cotrufo, it's what works for Hallmark movies, especially those around the holidays. "It's low-angst entertainment," she explained. "It's a stressful time, but you can turn on a Hallmark movie and then you're smiling as you watch it." This much is definitely true, since it's almost impossible to say no to a solid happy ending when you're trying to remain in the holiday spirit.
The Christmas Cottage was published in 2012 and sold 10,000 copies in the first six weeks, so getting to make it into a new Hallmark Christmas movie was a logical next step. And while some of the movies are totally original, there are plenty which are also based on novels, though they might seem particularly real or, at the very least, loosely based on real events. I mean, all of that accidental romance has to happen in real life at some point, right?
Even though The Christmas Cottage is based on a book rather than a true story, that doesn't mean it won't go down as one of the classic Hallmark Christmas movies we all look forward to each season. Because, at the end of the day, that's really all we're looking for, along with a good happy cry.
Hallmark's Countdown to Christmas movies are now are par with Freeform's 25 Days of Christmas, and although both month-long marathons will always be on my watchlist, I am particularly looking forward to what surprises The Christmas Cottage has in store when it premieres on Saturday, Dec. 9 at 8 p.m. EST on the Hallmark Channel.
Check out Romper's new video series, Romper's Doula Diaries:
Watch full episodes of Romper's Doula Diaries on Facebook Watch.