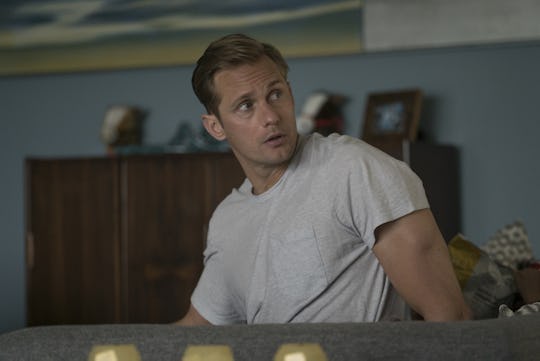 Hilary Bronwyn Gayle/HBO
Some 'BLL' Characters May Not Return For Season 2
There are characters we love to hate, then there are characters we straight up hate. Perry from Big Little Lies definitely falls in the latter category. He may be played by the extremely charming Alexander Skarsgård, but that's where the love stops. He is abusive to his wife, Celeste, to the point where she fears for her life. Perry does not even want her to return to her profession after being a stay-at-home mother for five years. Given how terrible he is, I can't help but ask: is Perry returning for Big Little Lies Season 2? As of now, his fate is up in the air. (Warning: major spoilers from the novel ahead!)
To be fair, it's quite possible that none of the characters will return in Season 2 because another season of Big Little Lies may not be in the cards in general. It is a limited series for HBO, and, despite great ratings, they may stick to that. This makes sense as the series is based on the stand-alone novel of the same name by Liane Moriarty. As TVLine notes, however, HBO has continued a series without source material before. An example is The Leftovers, which followed the novel it was based on for the first season, but went into original material thereafter.
Let's say, then, that there magically is a Big Little Lies second season and this A-list cast returns to play these highly dysfunctional parents. Will Alexander Skarsgård's Perry be one of them? If events play out in the series as they did in the novel, then no. Perry was the Trivia Night victim, killed at the hands of Bonnie. Perry has always been awful due to the way he treats Celeste, but on Trivia Night readers found out just how evil he really was. He was revealed to be Saxon Banks, Jane's rapist and Ziggy's father. He had given a false name when they met. Bonnie, who was abused in her childhood, was overcome and pushed him off a balcony.
The novel Big Little Lies had a happy ending for everyone except Perry. Celeste went on to become a lawyer again and raise her two sons. If HBO grants us a second season in Monterey, we may see how this plays out further — but Perry definitely won't be in the picture. Honestly, this is all the more reason a second season of Big Little Lies should occur.