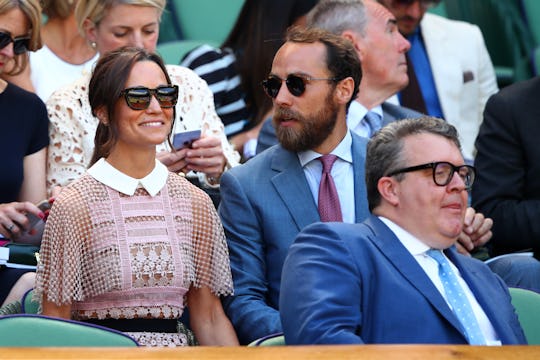 Clive Brunskill/Getty Images Sport/Getty Images
Pippa Middleton Is Reportedly Expecting Her First Child, But Is Her Baby In Line To The Throne?
The royal family has definitely been busy heading into the summer! From planning the wedding of Prince Harry and Meghan Markle to Kate Middleton's third pregnancy with husband Prince William, the family is quickly expanding before our eyes. And now, Duchess Kate's sister, Pippa Middleton, is reportedly expecting her first child, according to Reuters, which might have you wondering: Will Pippa Middleton's baby be in line to the throne?
This news comes just days before Kate Middleton is expected to give birth to her third child. Romper's request for comment was not immediately returned, and a rep for Middleton declined to comment to People. But, according to Reuters, an unnamed source claimed that Pippa's baby is due in October.
Pippa Middleton is the younger sister of Kate, the Duchess of Cambridge. The world was first introduced to Pippa when she acted as maid of honor at the 2011 wedding of Kate to Prince William, even holding Kate's train as she went down the aisle. Pippa and her husband, James Matthews, married in May 2017.
Some might be wondering what title Pippa's baby will hold, given that Kate's children are already in line for the British throne. But, royal titles aside, it's exciting watching as the couple prepares for their first reported child together.
For those completely unfamiliar with Britain's monarchy, it can be confusing tracing lines of succession, let alone understanding where a claim to the throne begins. It's best to start with someone whose connection to the royal family is easily traced, so let's take a look at Pippa's older sister, Kate.
Currently, Kate is officially the Duchess of Cambridge, but this isn't a title that Kate was born with. Instead, it's because she married Prince William, the Duke of Cambridge. Before her marriage to Prince William, Kate was essentially known as a commoner. It's part of why she will never have the official title "Princess Kate", as princess is reserved only for women born into the royal family. Tracing Kate's titles helps to understand that her younger sister, Pippa, isn't officially considered royal. While Pippa may be as close to royal as one can get without marriage, when it comes to succession for the throne, blood is what counts.
Because of that, Pippa's child will not be in line for the throne itself, or for the title of Duke / Duchess of Cambridge, since these are tied to the throne, too. But Pippa's rumored baby-to-be will still have plenty to brag about.
Pippa Middleton has been heavily involved in philanthropy. In 2013, Pippa became an ambassador for the Mary Hare School for deaf children in Berkshire. Then, in June 2014, she became an ambassador for the British Heart Foundation (BHF). As part of her work with the BHF, Pippa was part of the Race Across America, a 3,000-mile cycling race across the United States, followed by the Bosphorus Cross-Continental Swimming Race.
In addition to her philanthropy, Pippa is also a published author. In Septmber 2016, she combined her charity efforts with her writing when releasing her second book Heartfelt. It's a cooking book, focused on a balanced diet with low salt intake, and all proceeds go towards the BHF.
Pippa has struggled with overcoming the media's image of her in the past. "People see me as someone privileged who has used my position to advantage; that I don't really work, that I am a socialite - that word really irritates me - and that I'm a party girl with no substance," she told the Daily Mail in 2016.
It's definitely frustrating to constantly be in the public eye. Hopefully, no one gives Pippa trouble as she reportedly makes her way through this monumental period in her life. Pregnancy is a time where every expectant mother deserves to focus on herself, and her family, so here's to wishing Pippa Middleton the best!
Check out Romper's new video series, Bearing The Motherload, where disagreeing parents from different sides of an issue sit down with a mediator and talk about how to support (and not judge) each other's parenting perspectives. New episodes air Mondays on Facebook.