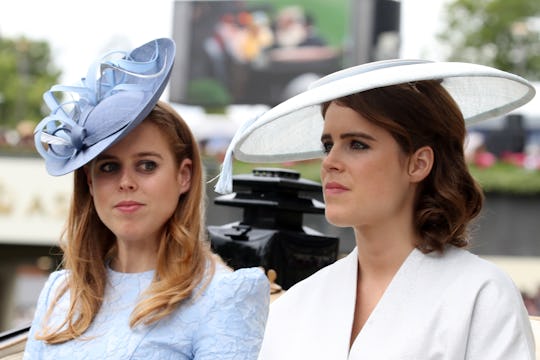 Chris Jackson/Getty Images Entertainment/Getty Images
Princess Beatrice Might Have A New Boyfriend
What a whirlwind 2018 has been for the royal family. Two weddings, a little baby, and another on the way. I'm sure they're all ready to just take a chill pill and relax for awhile, even if I'm definitely not and am ready to look forward to another royal wedding posthaste. Fortunately, rumor has it that I'm not the only one out there who isn't ready to close the door on royal romance. Princess Beatrice is reportedly dating a new man, and this is good news for everyone who wants to jump the gun and start obsessing over which tiara she plans on wearing at her own royal wedding, including me.
As most of you know, Princess Beatrice is the older sister of the recently-married Princess Eugenie, daughter to the Duke of York and his ex-wife Sarah Ferguson. You might remember her from such classic hits as reading a super confusing quote from The Great Gatsby at her sister's wedding to Jack Brooksbank earlier this year. Not her fault, of course, but for those of us who had to sit through it... no thanks. Or how about the time she became extra famous by wearing the most outrageous fascinator of all time (in my objective opinion) at the wedding of Prince William and Kate Middleton in 2011.
Now, it looks as though you might be reading more about her as the newest royal romance to hit the streets. Princess Beatrice is reportedly dating dashing young real estate developer Edoardo Mapelli Mozzi, as per The Sun. Mozzi is a 34-year-old property developer who owns a consultancy firm called Banda. He's also apparently a single dad with a 2-year-old son named (and how much do you love this?) Wolfie. Which would mean that, if Princess Beatrice were to eventually marry Mozzi, she could become a stepmom. An unusual title for a member of the royal family.
Now to be fair here, the couple reportedly only started dating a month before Princess Eugenie's Oct. 12 wedding, so it's pretty early to be talking royal wedding. Although People did report that the two have known each other for quite awhile, so maybe not so early. The two were also at the same 2014 wedding of a friend in Puglia, Italy, as Town and Country reported, and Princess Beatrice' mom reportedly follows him on Twitter. So that's a thing.
A friend of Princess Beatrice' told The Sun that the subject has already been broached among her friends.
They hit it off instantly and have a real laugh together. They've been on holiday together and Beatrice introduced him to Fergie and her dad. Things are moving very quickly and it wouldn't surprise anyone if they got engaged within a short period of time. They could even be tying the knot in 2019 — it's already been discussed by her friends.
It's important to remember that neither Princess Beatrice nor Edoardo Mapelli Mozzi have confirmed they are even dating, which means this is all speculation at this point.
But I can still hold out secret hope for another royal wedding in the near future, right? Who would that be hurting?