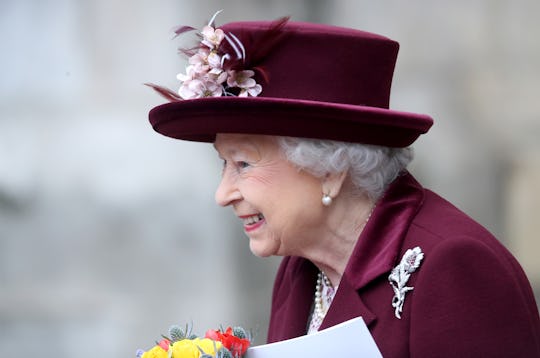 Chris Jackson/Getty Images Entertainment/Getty Images
Is Queen Elizabeth II A Feminist? Here Are 5 Reasons She Might Be
The Royal Family has become increasingly popular in the media again, thanks to Prince Harry and Megan Markle's rapidly approaching wedding date. With all this news from across the pond, it's not surprising that people are turning their eyes back to the matriarch of the family and wondering: is Queen Elizabeth II a feminist?
On Sept. 9, 2015, Queen Elizabeth II became the longest reigning monarch in British history after surpassing the reign of her great-great grandmother Victoria. And, only a year later, the Queen became the longest reigning monarch in the world following the death of Thailand's King Bhumibol Adulyadej. With reigning years beginning after her father's death in 1952, the Queen has seen a number of extra ordinary changes in the world; such as devolution in the United Kingdom and the patriation of Canada.
Recently, the Queen has been the subject of Netflix's The Crown, a historical drama series showcasing her life. The series has been celebrated for its feminist moments, but it's still a television show; while it's largely biographical, things are still open to creative interpretation. In reality, the Queen has a long and complicated legacy, further complicated because she doesn't actually give many interviews. It's hard to know the Queen's personal feelings on any matter, but here are a couple instances of feminism unpacked.