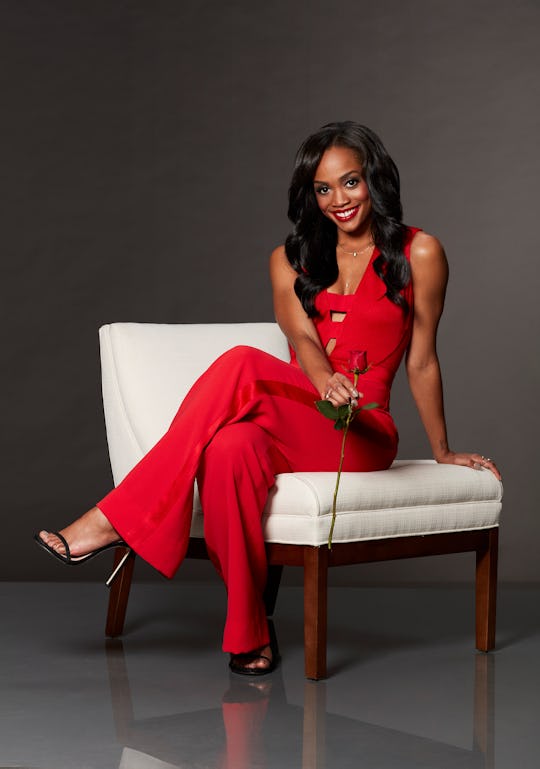 ABC/Craig Sjodin
Rachel's Already Confirmed How Her 'Bachelorette' Season Ends
When Rachel Lindsay was announced as the newest star of The Bachelorette, Bachelor Nation was ecstatic (to say the least). Rachel won hearts all across America during her initial appearance on The Bachelor Season 21, when she made it to the final three before Nick Viall sent her home. It was her combination of realness, practicality, and personality (not to mention the fact that she's a badass lawyer) that made her an early favorite for the role of the next Bachelorette. For that reason, viewers are super invested in her journey and already wondering: Is Rachel engaged after The Bachelorette?
Typically, the star of a given Bachelor or Bachelorette season is instructed to keep as much about their journey as possible a secret — since they film several months in advance, the end result is a foregone conclusion before the season even starts airing. In Nick's season, for example, the producers really played up the question of whether or not he even got engaged or chose a contestant at the end, relying on a ton of ~dramatic cliffhangers~ where it seemed like the Bachelor star might just give up and go home.
As much as everyone is hoping for Rachel to find love, getting engaged isn't a guarantee — even if she picked one of her contestants at the end, they might not have necessarily proposed during the final two ceremony. Plus, was she even ready to get engaged? She'd been spurned by Nick pretty badly (and recently).
As it turns out, she was fully ready to get engaged — and she is! During a conference call ahead of Monday's season premiere, Rachel confirmed that she did get engaged at the end of her season. In fact, her exact words were that she is "very much so in love and very much so engaged." Yay Rachel! According to ABC, she's also the first Bachelorette to announce her engagement days ahead of the premiere.
In the same interview, she spoke about the challenges of keeping her engagement a secret — former stars and winners have often discussed how hard it is to barely see one another and meet in secret during the months between the season finale's filming and its airing. "I'm used to a long-distance relationship where we can't see each other all the time and we can't be public. I'm used to that. But it's hard when you're so excited about something and you can't share it with everyone," she said. "But we make sure to communicate with each other all the time, and that's all you can really do." Rachel also revealed that, despite being engaged, she's in no rush to walk down the aisle, wanting herself and her fiancé to have the opportunity to get to know one another better first.
Interestingly, Rachel (who is the franchise's first black Bachelorette and also the star of the season with the most diverse cast ever) says that viewers won't be able to guess who her fiancé is. "You have to follow along on the journey. It's really exciting. You won't be able to tell," the Dallas attorney said during an appearance on Good Morning America.
Sounds like Bachelorette fans have an exciting season full of twists ahead. And I, for one, can't wait to see how it all plays out.