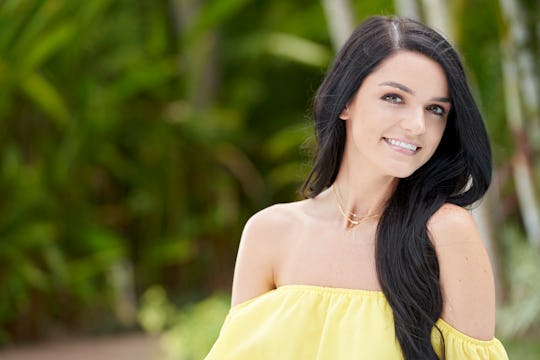 Bob D'Amico/ABC
Raven's 'Paradise' Journey Seems To Have Been Worth The Effort
If there's one contestant that surprised me the most on Nick Viall's season of The Bachelor, it was Raven. When I saw her introduction package of her walking (and mud biking) through Hoxie, Arkansas, I have to be honest: I didn't think she would last very long. To my surprise, though, she was Nick's runner-up. This summer she went back into the thralls of Bachelor productions and looked for love on Paradise. She and Adam from Rachel's Bachelorette season have been a close pair... but will they stay together? Is Raven single after Bachelor in Paradise? She may have found the love she was looking for.
At first glance, Raven and Adam are an unlikely pair. For those in Bachelor Nation who forgot about Adam, he was the guy on Rachel's season that had a creepy doll named "Adam, Jr." Somehow, though, he was a hot commodity this season on Paradise. At first, he was pretty into Sarah — and there were actually rumors that the two and Raven had a threesome (they were all cuddling, which is sufficient evidence to some.. .not me, though). In the end, however, Adam chose to give his rose to Raven, and the two have been together ever since.
Now, will Adam and Raven make the plunge and propose in the season finale of Paradise? Many have and split soon after — Lace and Grant from last season, for example. There are rare occasions, though, where true love prevails on Paradise: may I remind you of Carly and Evan, who actually tied the knot earlier this summer. Adam and Raven have been going strong the past few episodes; will they keep the momentum going, or fizzle out?
Looking at their Instagram pages (Adam and Raven's), they are not shy about sharing photos with fellow cast members — even the ones they aren't dating. There are some together, such as this cheeky one from Adam's account and Raven's photo with Adam, Jr. (I guess she finds him endearing?). No rings in sight, however — but that doesn't mean they haven't exchanged them. From the looks of it, they seem to be having fun together. I wouldn't be surprised if Raven is no longer single after Paradise, but perhaps she and Adam won't rush into marriage quite yet. If that's the case, I'm so excited to see how their relationship will grow. One question I have: is Adam a fan of mud biking?
Check out Romper's new video series, Romper's Doula Diaries: