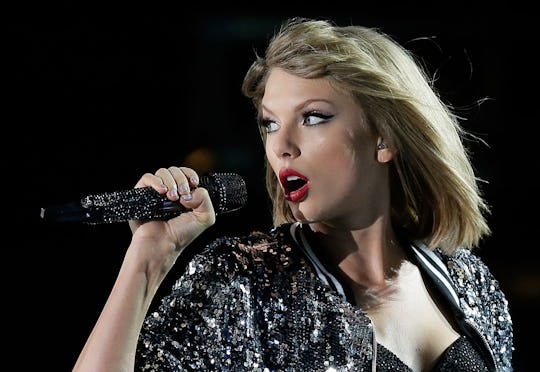 Mark Metcalfe/Getty Images Entertainment/Getty Images
Taylor Swift's 'Reputation' Is Totally An Ode To Her Rumored Beau
Taylor Swift is known for many things, but one of them is that she wears her heart on her sleeve and often writes songs that are blatantly about her love life. Now that fans have the full album at their disposal to analyze, some people think that Taylor Swift's Reputation is all about Joe Alwyn. And when you think about it, it totally could be.
Alwyn, 26 years old, is a British actor that Swift has reportedly been dating pretty privately. They haven't officially made a public appearance together, but they were spotted together as far back as last May, according to Us Weekly. Since then, they've kept their romance on the DL. A source told Us Weekly last month:
They have quite a low-key relationship, which Taylor likes. It's very normal, and no one really knows about it right now. They just work out, watch movies together and invite friends over. Taylor loves to cook and bake for him. They are still taking it slow.
They are also reportedly "very much in love," according to Elle, and have made secret trips to London so that the singer could meet his parents. She's been spending half of her time across the pond just to be closer to him, too, according to People.
Fans already believe that the second single off the album, which she released in October, is about Alwyn. In the first verse of "...Ready For It," Swift sings:
Younger than my exes but he act like such a man, so I see nothing better/ I keep him forever/Like a vendetta-ta.
Her most recent exes Calvin Harris and Tom Hiddleston are 33 and 36 respectively, so there's that. She also mentions an "island breeze," and ya know, England is an island with notoriously blustery weather. The chorus and hook of the song are all about true love and locking this love interest down. It's like she's asking the subject of the song if he's "ready" for that kind of thing.
The video also includes shots of a pub Alwyn reportedly frequents, according to Glamour, a double-decker bus which is a symbol of London, and a North London kebob joint. (Alwyn is from North London.) So yea, it's safe to assume that the track is about him. But is the whole album?
It could be! It's about a lot of things, obviously, but one of the major themes is this reinvention of Swift herself after a tumultuous few years in the press in the wake of 1989 and all of her very, very public romances (and heartbreaks) with Harris and Hiddleston. Swift is a romantic at heart, so it's not hard to suggest that for her, a personal transformation would be inherently linked to her love life. A source told Us Weekly:
Expect to see them step out together really soon. It's often been Taylor's M.O. to be seen with a new guy first, have her new single drop and then announce her new album. But this time, she's kept the guy private. And that's pretty interesting. She really likes Joe.
There's also a track called "New Year's Day," which fans also suggest is about Alwyn. According to the lucky Swifties who got to go to secret listening sessions to hear the entire album, along with Swift's explanations, that track is a tear-jerker and really important.
Here Are Some Theories About The Song
She allegedly told fans that the track is worthy of being a "first dance at a wedding" song for a couple, so you know it's deep AF. A source close to Swift told Us Weekly that the pop star thinks Alwyn is "the one" and can see herself having kids with him. So while "New Year's Day" might not be when they got engaged (since they met last year), it could be about another pivotal moment in their relationship. Or it's a figure of speech. Like, if the old Taylor is dead, the new Taylor was definitely formed in some way by this new love.
Reputation might not be all about Alwyn, but he's definitely the inspiration for a bunch of the tracks, which means fans are just as in love with him as Taylor seems to be.
Check out Romper's new video series, Romper's Doula Diaries:
Watch full episodes of Romper's Doula Diaries on Facebook Watch.