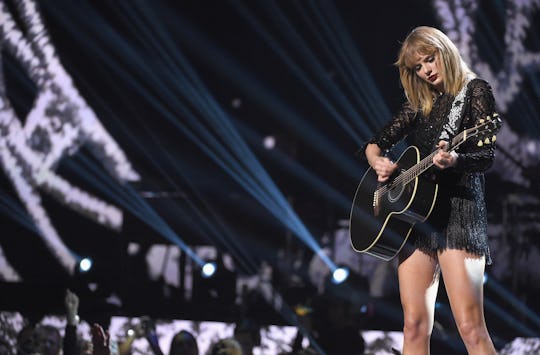 Kevin Winter/Getty Images Entertainment/Getty Images
These Fan Theories About "New Year's Day" Hint That It's All About Taylor Swift's Love Life
With the release of Reputation just days away, fans are very curious about one song off the new album and what it could possibly mean. So, what's Taylor Swift's "New Year's Day" about? The most intriguing fan theories could mean some big news for the star, if true. Because, if there's one thing that fans of Swift do well, it's overanalyze every little thing the singer does, says, sings, or writes. While, many times, their observations are totally on point, that isn't always the case. Nevertheless, as Swift is basically the master of mystery, there isn't really a fan theory not worth exploring.
So, let's dive in, shall we?
Tuesday, after a photo of Swift's new album was leaked, revealing the anticipated tracklist, Swift herself released a photo showing all the songs on Reputation. And since then, fans have been going crazy trying to figure out what each song could be about. Many are digging deep into the words of the song titles, but there are some fans who are giving even bigger clues, since they've already heard the album in its entirety. Specifically, the fans who were lucky enough to attend one of Swift's signature Secret Sessions and hear every song on the album with Swift's explanation of each song have been giving some major hints online.
According to just about every fan who went to a Secret Session, "New Year's Day" is the song that will make everyone cry uncontrollably.
Of course, it's also important to note that attending a Secret Session in and of itself would be enough to make this Swiftie cry, so perhaps emotions at Swift's house were just elevated and the song isn't that cry-worthy in real life (read: not sitting in Swift's living room while she sings along to her own songs just feet away from you).
Nevertheless, if "New Year's Day" really is the infamous crying song, then many are theorizing as to why fans were sobbing. Was it a happy-cry or a sad-cry? Well, as Glamour reported, there are two pretty relevant fan theories about the song, but this certified Swiftie is here to tell you that one of those theories is probably wrong.
Here are the theories:
It's About Her Breakup With Harry Styles
So, this is the theory that I, personally, am the most skeptical of. Basically, fans think that the song is about Styles because the two allegedly broke up around the holidays back in 2013. Reportedly, the two "jetted off to the British Virgin Islands on New Year's Day to spend some time together," according to The Daily Mail.
While it makes sense that, if the two broke up around that time, and something happened on New Year's Day, people would assume that's what the song is about. However, this was four years ago, and Swift has also already written about Styles on her Grammy-winning album, 1989. She literally had a song called "Style" about their relationship, and "Out Of The Woods" was also allegedly about their time together. So, why would Swift reminisce about a months-long relationship that ended years ago? If "New Year's Day" is, indeed, a breakup song, it seems more fitting that it would be about her more recent (and longer) relationship with Calvin Harris.
Nevertheless, some hardcore Haylor shippers are hopeful that "New Year's Day" will perhaps shed some more light on what happened between the two pop stars. But, like I said before, that isn't the shining star of fan theories about this song.
It's Totally An Engagement Announcement
OK, OK. I know this sounds pretty far out there, but bear with me here. Plenty of fans are convinced that "New Year's Day" will actually be an engagement announcement from Swift and her boyfriend, Joe Alwyn.
That might seem pretty outlandish, but fans who attended the Secret Session have been saying for weeks now that there's a song that made everyone cry while listening to it. And then, after the tracklist was released, Secret Session-ers confirmed that "New Year's Day" was the crying song and that Swift had even described it as a "wedding song." As Swift has also maintained that any love songs on Reputation are about Alwyn and Alwyn alone, according to fans, this theory checks out.
It Could Just Be About Her Relationship With Joe Alwyn
It's also important to note that Swift and Alwyn didn't start really dating until the first of this year, according to E! News, so it would be highly unlikely that "New Year's Day" is about Alwyn proposing on Jan. 1. But it could be about the couple preparing to get married on New Year's Day 2018? Maybe. That's my guess. Or, a less dramatic (but more likely) scenario could be that the song is about the first time they told each other "I love you," which maybe happened on New Year's Day 2017.
Really, though, whatever the song actually is about, it's sure to be a hit, because whether she's writing about the haters, or falling in love, or falling out of love, or anything in between, Swift's songwriting reputation speaks for itself.
Watch Romper's new video series, Romper's Doula Diaries:
Check out the entire Romper's Doula Diaries series and other videos on Facebook and the Bustle app across Apple TV, Roku, and Amazon Fire TV.