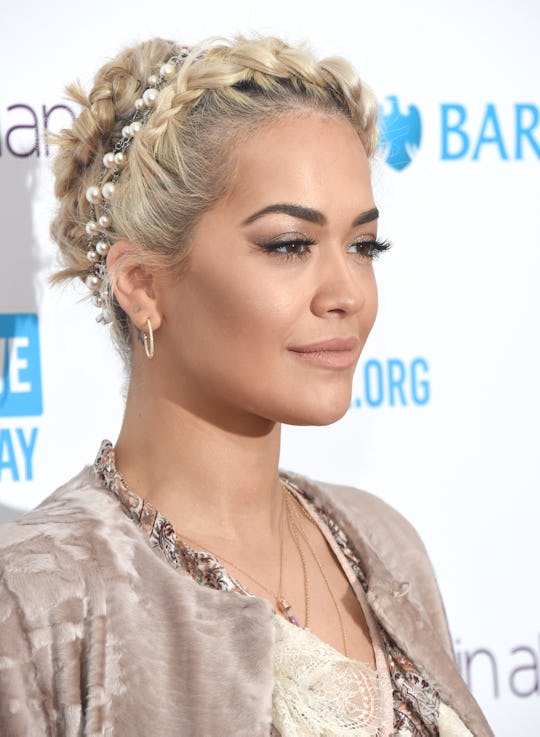 Stuart C. Wilson/Getty Images Entertainment/Getty Images
Is Rita Ora "Becky With The Good Hair"? Fans Think She's Fueling The Rumors
Rita Ora was the newest face in the Lemonade controversy on Tuesday. Some though she seemed to be taunting the BeyHive with not-so-subtle clues that she, rather than Rachel Roy, might be the "Becky with the good hair" referenced in Beyoncé's track "Sorry," from her new album Lemonade. So is Rita Ora "Becky with the good hair?" It almost doesn't matter. A better question would be why would Ora possibly want anyone to think she nearly broke up Beyoncé and Jay Z's marriage? It might just be spotlight-stealing moment for her before she shuts down the rumors.
On Monday, Roy, another potential rumored "Becky" reportedly canceled a public appearance because Beyoncé fans were harassing her so relentlessly online that she needed to retreat from public while tensions died down. Some of the comments Roy, and even her daughter, were getting on social media were horrifying. But, for whatever reasons, fans think Ora decided to attract similar attention to herself, even though it seems — kind of like Roy's Instagram post — like an unfortunate series of twisted coincidences.
Here's the evidence fans are pointing to: First, Ora posted a shot of herself on Snapchat wearing a lemon bra. Lemons, people! And everyone knows that Beyoncé owns lemons at least for the time being with the release of Lemonade. I kid. But what really set the Internet's hair on fire was the necklace she was wearing that looked like a "J." The necklace is actually an "R" shot in a mirror for you know, Rita, but that was enough to shake the Hive and attract a swarm of pissed off Beyoncé fans to Ora's social media accounts.
Cute lemon bra, though.
Since then there have been a whole lot of bee emoji being plastered all over her social media accounts with comments like this one from "thundercatatl" who commented "You look stupid. You don't compare to Bey" followed by no less than nine bees. Ouch. And that was one of the tamer jabs.
But, then, on Tuesday, Rita really threw lighter fluid on the whole mess when she steeped out in Hollywood in the exact same Gucci outfit Beyoncé wore on top of the police car in her "Formation" video.
Oh, yes, she did. And, if she was looking for attention, she got it. Fans have officially linked Ora to Lemonade, Beyoncé, and Jay Z. Mission accomplished.
But notice her necklace is indeed an "R." Just the first of several problems with the Rita-as-Becky theory.
Also, Ora and Jay Z have been on the outs for some time. Not because of an affair gone wrong, but because Ora accused Roc Nation records of neglecting her career. She sued Roc Nation at the end of last year, and the company counter, which maintains it did nothing wrong, sued her for defamation.
The takeaway from her broken relationship with Jay Z and Roc Nation is that Ora needs a bit of publicity, and you know what they say about bad publicity. It looks a whole lot more like she'd rather be known as "Becky With The Good Hair" than forgotten altogether. And the whole setup also lets her put a middle finger up in the Carters' direction. But she hasn't officially spoken on any of the speculation, and she really just could've chosen that outfit simply because it's cute.
And while Bey fans, myself included, are running around like loons trying to track down "Becky," Beyoncé's unofficial biographer J. Randy Taraborrelli just gave an interview to Cosmopolitan where he said he's not sure Lemonade is about Beyoncé and Jay Z at all.
Now, I'm not a psychic, I'm a biographer, and I can't say that Jay Z didn't have a one-night stand in a tour bus a week ago, but I do know from my studying of Beyoncé [that] her personality is such that if in fact she was actually having marital problems, she would not be sitting down writing songs about it for the nation to dissect and interpret. That's not who she is. She's too private a person to handle her marital dysfunction for the world to see and examine. More likely what she's doing is she's possibly writing about her mother's marriage and what she witnessed there. That sounds like Beyoncé.
So maybe there is no "Becky," or maybe the real one is a a woman that her father cheated on her mother with decades ago (though that hasn't been confirmed either). Either way, I'm pretty sure she's not Ora, despite what she might want us all to think. Show business is complicated.