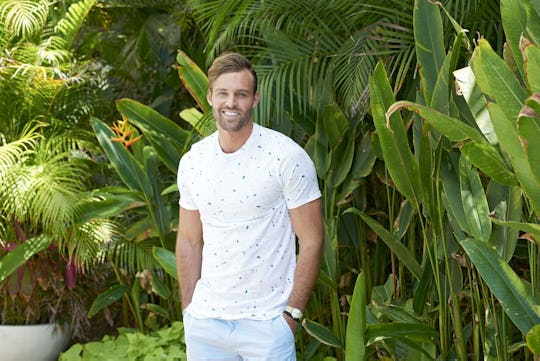 Bob D'Amico/ABC
Robby's Search For Love Didn't Go As Expected On 'Paradise'
It is a truth universally acknowledged that some people go on The Bachelor to find love, some go on to launch their Instagram careers, and some appear to find love, only to be broken up mere months after the show finishes airing. Such seems to be the case for Robby Hayes and Amanda Stanton. So does that mean Robby is single after Bachelor in Paradise? He and Amanda appeared to hit it off on the resort, but perhaps their union wasn't meant to last.
Bachelor Nation first met Robby on JoJo's season of The Bachelorette. Despite the fact that her family seemed to prefer Robby, JoJo chose Jordan Rodgers and Robby left brokenhearted. Luckily, ABC doesn't like to let its fan-favorite stars be forgotten, so Robby, his abs, and his immobile hair were invited to Bachelor in Paradise where it looked like he'd finally found love with Amanda, who had gotten engaged to Josh Murray in the previous season of the show. But according to Amanda, after Paradise she and Robby did not stay together long. She told Us Weekly bluntly, "Robby and I are not together." She was mostly gracious about their breakup, saying that Robby was MIA a lot of the time and simply didn't seem ready for a relationship. So it looks like Robby is single once again.
E! News reported that Amanda doesn't have any hard feelings towards her ex, and that he's off living his best life. "I don't think that he did anything wrong," she said. "I just think that he's not ready for a relationship. I'm just in a place in my life where I am ready for a relationship, and I want a relationship. It just wasn't meant to be. I wish him the best though." A cursory glance through Robby's Instagram and Twitter pages implies that he is still committed to a career as an "influencer" and a model. And he seems pretty single.
In a recent tweet, Robby said simply "Hakuna Matata," which everyone should know means "no worries" according to Disney's The Lion King. Now, this could either be a very vague platitude about life, or it could be a cryptic reference to his relationship with Amanda and how it ended. Who knows?! I choose to interpret it as a reference to Amanda because I live for the drama. Most of Robby's posts show him hanging around at home, being shirtless, or chilling with Vanderpump Rules star Scheana. There is no evidence that he is heartbroken, which is good, I suppose.
Check out Romper's new video series, Romper's Doula Diaries: