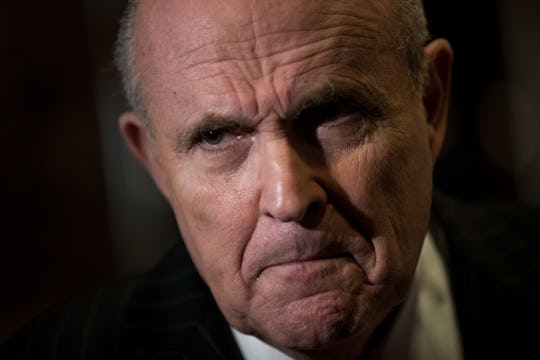 Drew Angerer/Getty Images News/Getty Images
Is Rudy Giuliani Qualified To Be Attorney General?
On Monday, President Donald Trump took to Twitter — as he so often does early in the morning — to vent about "our beleaguered A.G." Jeff Sessions. Sessions recused himself from the Russian collusion investigation back in March, and according to Salon, it's this recusal that has Trump furious with Sessions. If Trump wants to get rid of Robert Mueller, the special investigator, Sessions would have to fire him, but since he's recused himself, he can't. Aye, there's the rub. But Trump reportedly has his eyes on someone to replace Sessions, according to Axios: former New York City Mayor Rudy Giuliani. Is Rudy Giuliani qualified to be Attorney General? Trump and Giuliani go way back — as does Giuliani's own history in the role.
While the White House did not immediately respond to Romper's request for comment, the president lashed out at Sessions' recusal in an interview with The New York Times Wednesday, saying, "So Jeff Sessions takes the job, gets into the job, recuses himself. I then have — which, frankly, I think is very unfair to the president." Which brings us back to Giuliani as a possible Attorney General pick — and if this sounds familiar, it should: Trump initially considered Giuliani for the role after winning the election.
There's been no confirmation from the White House that Trump will fire Sessions, nor that Trump would nominate Giuliani for the A.G. That said, it wouldn't be a novel position for the 73-year-old Republican: Giuliani served as Attorney General under President Reagan from 1981 to 1983, before becoming the U.S. District Attorney for the state of New York. Of course, a few federal laws may have changed in the 34-year span since Giuliani once held the role, but don't forget: Trump is more than happy to nominate people with zero experience to his Cabinet.
After Trump's Twitter tirade on Saturday about his "complete power" to pardon, news that he's already got a backup A.G. in mind with Giuliani could very well just be a way for the administration to redirect the narrative about the Russian investigation away from the president's own increasingly desperate behavior as both his son and son-in-law testify before the Senate Intelligence Committee on Monday.
Giuliani and Trump have a history that goes all the way back to the 80s in New York City, when Trump helped fundraise for Giuliani's mayoral campaign. That Trump would move to replace Sessions with someone more familiar to him is no surprise, given the president's penchant to surround himself with ultra-wealthy buddies. Even so, the idea of Giuliani as Attorney General should be massively concerning to every American — he was the proponent behind the city's "stop and frisk" program that was ruled unconstitutional. Of course, all of this doesn't matter until Trump officially fires Sessions and tosses Giuliani's name into the three ring circus that is the Senate right now.