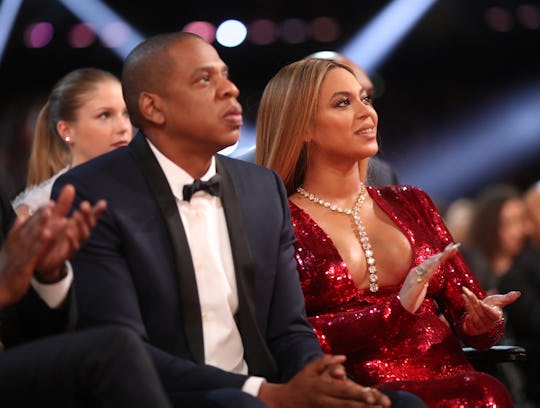 Christopher Polk/Getty Images Entertainment/Getty Images
Is Rumi Named After Someone?
After a couple of weeks of speculation, it seems that Beyoncé fans can start calling the newest members of the Carter family by their names — according to TMZ, the Carter twins are named Rumi and Sir. Creative, for sure, and fans are wondering where the names came from. Sir seems unique enough that it doesn't need much questioning, but what about Rumi? Is Rumi named after someone?
According to In Touch Weekly, Beyoncé gave birth to a boy and a girl, and fans have been speculating about the names ever since the birth announcement. There were reports floating around that the twins' names were Shawn and Bea (after JAY-Z and Beyoncé apparently), but it seems those rumors have been squashed. TMZ reported that the Carters' company filed legal documents to "secure the rights to the names, Rumi Carter and Sir Carter."
That sounds super official, right, but Bey and JAY may think it's also incredibly necessary. According to Forbes, the two have dealt with lawsuits surrounding the name of their oldest daughter, Blue Ivy. A party planning company named Blue Ivy Events attempted to stop the Carter family from trademarking their daughter's name, as it's also her business name. At the time of this article's publication, the fight still hasn't been resolved.
It's safe to assume that if the Carters are filing paperwork to trademark Sir and Rumi, those names are the names of their twins. But what do they mean? Sir, a polite name used to respect a man, seems like the obvious choice for a boy, but according to Baby Center, Rumi is also a traditional boy's name. Beyoncé doesn't exactly go for traditional names, so where did these ideas come from? Is Rumi named after someone?
It's no secret that baby names are often chosen to honor a loved one or family member. But when it comes to Beyoncé and JAY-Z, there's no public knowledge that the name Rumi is related to anybody around them. But the name could be a way to honor somebody else — Rumi, a Persian poet born more than 800 years ago whose work has left an incredible imprint on the world.
According to the BBC, Rumi is the most popular poet in the United States. Lee Briccetti, executive director of Poets House, told the BBC that Rumi's poems "articulate what it feels like to be alive." Beyoncé is no stranger to art and appreciating other cultures, so it seems incredibly powerful and sweet to think that she could have possibly named one of her children after Rumi the poet.
Now whether Rumi is for her little girl or her little boy, the world is still unsure. Until Bey and JAY officially confirm the names of their twins, fans will have to do a little more speculating. But imagining that Rumi is named after one of the most compelling poets in the world is pretty perfect.