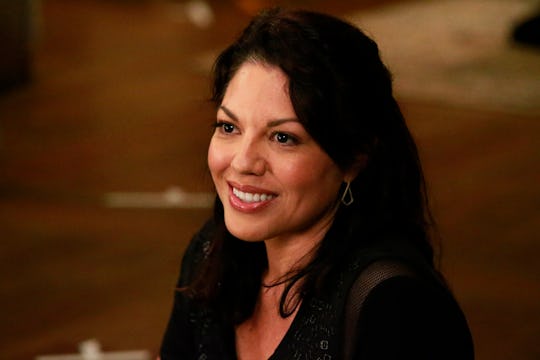 Mitchell Haaseth/ABC
Is Sara Ramirez's 'Grey's Anatomy' Contract Up? It's Unconfirmed
With her character Callie Torres perfectly primed for an exit, many fans have been wondering if Grey's Anatomy star Sara Ramirez is really leaving the show. Major cast members have come and gone in the past in ways both crazy dramatic and relatively low-key, so Callie leaving Seattle Grace Grey Sloan to follow her new girlfriend to New York is not entirely impossible. But what exactly does that mean for actress Sara Ramirez? Is she actually done with the show? The show itself is keeping quiet, but contract negotiations might be the key to figuring it out. Is Sara Ramirez's Grey's Anatomy contract up? (ABC had no comment regarding the contract.)
Usually, series regulars who leave in a non-soap opera way, like Sandra Oh, confirm it ahead of time. Callie's potential cross-country move would be the perfect time for Ramirez to confirm that she is leaving the show at the end of the season, but she hasn't done so. This could mean that there is some big twist involved in Callie's departure, but it could also just mean she isn't going anywhere. Ramirez's contract is up for renewal now, but unlike co-stars Justin Chambers and Jessica Capshaw, Ramirez hasn't officially confirmed that she is signing up for more seasons.
Ramirez did drop a tweet that made some fans nervous, however. Her comment on the wrapping of Season 12 sounded a lot like a final goodbye to character Callie, but keep an eye on those hashtags — Season 13 is mentioned, which is perhaps her quiet way of saying she'll be back for the next season. Her contract is up in May of this year, so it's possible that she can't confirm until everything is official. Until that official confirmation, this might be all fans have to go on.
But just to make you nervous — there are rumors of a big death coming up at the end of the show's current (twelfth) season. It's probably not Callie, but you never know.