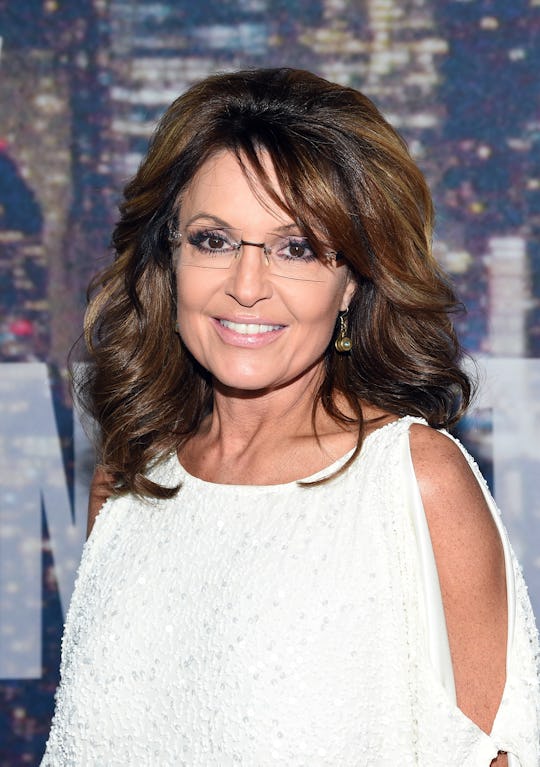 Larry Busacca/Getty Images Entertainment/Getty Images
Sarah Palin Could Make An Appearance On 'Teen Mom OG' Season 8
When MTV announced that Bristol Palin would be one of the Teen Mom OG newcomers, there were mixed fan reactions. Some were ready for the introduction of new faces, while others were unsure about what it meant for the series to have someone from a political family join the cast. One of the main questions was, is Sarah Palin on Teen Mom OG Season 8 too? It isn't out of the ordinary for cast members' families to also make appearances on the show, so it would be only natural for Bristol's mom to appear from time to time too.
There is a quick shot of the former Alaska governor in the Season 8 trailer. Bristol's story this season has a lot to do with her marriage and raising her children as someone who was once a teen mom. So chances are, Sarah will make an appearance more than just once. Bristol was 17 when she gave birth to her first son, Tripp, with now-ex-husband Dakota Meyer and since then, they had two more kids. So while Bristol was not part of 16 & Pregnant or any of the Teen Mom shows that followed, she was, indeed, a teenage mom. And, as she said in the trailer, her hope is to help other young moms by sharing her own story on the show this season.
Bristol is the first of her siblings to have kids and it's pretty typical of grandparents to dote on their only grandchildren. On Sarah's Instagram, she recently posted a photo of herself with Bristol's kids and the caption, "Hanging w/babies while mama's at work," so she's clearly a big part of her grandkids' life. Which means that she'll probably pop up on Teen Mom OG this season at least a handful of times.
Other than being a young mom, Bristol's storyline is also going to follow her marriage troubles. She recently announced that she filed for divorce from her husband of two years, who's also set to be featured heavily this season. And through their marital woes, it wouldn't be surprising if Sarah stepped in to help her daughter.
The Palin family has been in the public eye for years, so it's nothing new to put their struggles and triumphs out there for the world to see. In 2012, Bristol starred in the short-lived Lifetime reality TV show Bristol Palin: Life's a Tripp, but this time, her reality TV stardom is about helping other young moms by sharing her story. And Sarah told TMZ that she's proud of Bristol for joining the Teen Mom OG cast.
"Bristol's gonna be a great messenger for kind of overcoming a little bit of challenge and doing well in life," she said. "The girls, my daughters, have been telling me who all the characters are, kinda trying to catch up, but my daughters — Bristol and Willow and Piper — they all have great respect for some of the girls who have really overcome some obstacles and done well with their children."
When asked if she's going to be on the show this season too, Sarah said, "Whatever Bristol needs or wants and whatever my grandbabies need or want, I'm there." Bristol's life is in Texas now instead of Alaska, but clearly they still see plenty of each other.
Over the years, we've seen the moms lean on support from friends, family, and even the MTV crew. It sounds like Sarah will be there any time Bristol needs her this season and since life on the show can't be easy to adjust to, viewers will probably see their fair share of Sarah during Bristol's segments.