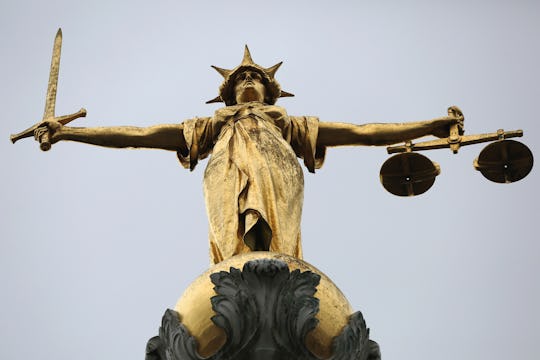 Dan Kitwood/Getty Images News/Getty Images
Is 'Serial' Responsible For Adnan Syed's Conviction Being Vacated? It Had An Impact
Adnan Syed, the subject of the massively popular podcast Serial, has been granted a retrial, and his supporters couldn't be happier for him. Syed was convicted of murdering his ex-girlfriend, Hae Min Lee, in 2000, and has spent the last 16 years serving a life sentence in prison for a crime he claims he didn't commit. Now he will get another chance to prove his innocence — and many are wondering if Serial is responsible for Syed's conviction being vacated.
Hae Min Lee was an ex-classmate of Syed's from Woodlawn High School in Baltimore, Maryland, and an old girlfriend. Lee went missing in January of 1999 and her body was found in February in Leakin Park. Lee had been strangled to death. At the time, an anonymous tip was called into the police claiming Syed had murdered Lee. Jay Wilds, an acquaintance of both Lee and Syed, told police that he had helped Syed dispose of Lee's body. Baltimore Police checked Syed's cell phone records and claimed they could be linked to Lee's burial site. At the time it appeared Syed didn't have an alibi, could be placed at the scene of the crime, and was unable to remember his exact whereabouts when Lee was murdered. While there was no physical evidence, his case seemed pretty hopeless... until Serial got involved.
Adnan Syed's case was brought to the attention of Sarah Koenig, the producer of Serial, by his friend Rabia Chaudry. Koening and her team (particularly Susan Simpson, an attorney and Serial blogger) at Serial decided to investigate further into Syed's case for the first season of Serial, which debuted as the number on podcast on iTunes. Over the course of the season, Koenig uncovered two pieces of pivotal evidence to further support Syed's claim of innocence. Koenig exposed an alibi witness, Asia McClain, who said she was with Syed at the library the day Lee was murdered. While she offered to testify at the time, Syed's lawyer Mari Cristina Guttierez (who was disbarred in 2001) never called her as a witness. Nor did she cross-examine AT&T engineer Abraham Waranowitz, whose testimony linking Syed's cell phone to the burial site has been called into question.
All of this information was brought to light by Serial. And now, Syed has been granted a retrial by retired Baltimore judge Martin Welch. His conviction has been vacated, and he will get another day in court. When explaining his opinion, Judge Welch wrote, "The court finds that trial counsel's performance fell below the standard of reasonable professional judgment when she failed to cross-examine the state's cell tower expert regarding a disclaimer obtained as part of pre-trial discovery."
So could Syed have won a retrial without the investigative journalism and exposure from Serial?
Well, in the words of Syed's lawyer, C. Justin Brown, "I don't think so."