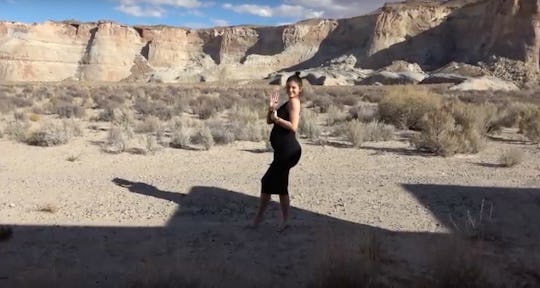 YouTube/Kylie Jenner
Is Stormi Spelled With An "I"? Kylie Jenner's Daughter's Name Is Extra Adorable
Interrupting our days to deliver the news we had all been on tenterhooks waiting to hear, ever since Kylie Jenner announced the safe arrival of her baby daughter on Super Bowl Sunday, Jenner dropped an Instagram on Tuesday that revealed her baby's name. "stormi," read the caption on a beautiful pink-hued photo of her baby, prompting the world to ask: Is Stormi spelled with an "i"? Also, is it an lower-case or upper-case "s"? With the Jenner-Kardashians, anything can be the case.
Per Kylie Jenner's Instagram account, little Stormi's name is spelled, yes, with an "i." The name can be spelled Stormy or Stormi or even Stormee, depending on how you like your tea, and it's obvious that Jenner likes her tea adorable. Interestingly, several of the Kardashian clan have names ending in "y" sounds, but they are spelled with several variations. Khloé of course has the accent mark that we all forget constantly, and Kylie is rocking the standard "ie," while Kourtney has an "ey." Names that end with the "y" sound are often considered cuter or more diminutive, which is why nicknames often involve a "y-ified" version of a person's name (e.g., "Kimmie" for Kim, if we wanted to get into it!). Kim Kardashian West has previously noted the difficulty in coming up with a nickname for someone whose name already seems nick-name-y.
"Khloe is koko aka kokes," Kim has written on Twitter, when asked about their nicknames for each other.
Still, she has acknowledged the trickiness of coming up with one for Kourtney:
Kim's nickname for her brand-new baby niece will, naturally, be an emoji, if you're going by the tweet she sent after sister Kylie announced Stormi's name.
The big question, beyond whether American moms will start naming their babies Cindi and Bobbi and Jessi and Rubi (I guess?), is whether Kylie will inspire a mini-trend of baby Stormis. Khloé's high profile on the celebrity circuit has caused the baby name Khloe to skyrocket since 2006, according to US Magazine. The spelling "Chloe" had previously been quite prominent, but a rash of K-names will do that for the middle of the alphabet.
Kim Kardashian famously rejected the idea of naming any of her children with "K" names, along with family names like Donda and Robert. Lest this not be clear, these moms put a lot of time and thought into their baby names.
In Kylie Jenner's birth announcement video, she is seen discussing the name for Kim's baby Chicago West, who at the moment is seen wrapped in a swaddle, and still simply "baby West." "I think we like Chicago," Kim tells her sister in what is in fact the first glimpse the public has had of her baby, born by surrogate to Kim and husband Kanye West this January — the first of the Kardashian-Jenner baby trifecta for 2018.
Kim later celebrated the birth of her niece with a beautiful message on her app, that read:
Mommy Kylie!!! You did it!!!I'm so incredibly proud of the woman you have grown up to be and I know that you are going to be the best mom to your new baby girl! ... I am so proud that you do what you want to do and live your life the way you want, you will pass down all of those amazing qualities to your baby girl. You were made to be a mom! I love you!
As you can see, for the tight-knit Kardashian clan, it is diminutives all the way down, from "mommy" to "stormi."
Check out Romper's new video series, Bearing The Motherload, where disagreeing parents from different sides of an issue sit down with a mediator and talk about how to support (and not judge) each other's parenting perspectives. New episodes air Mondays on Facebook.