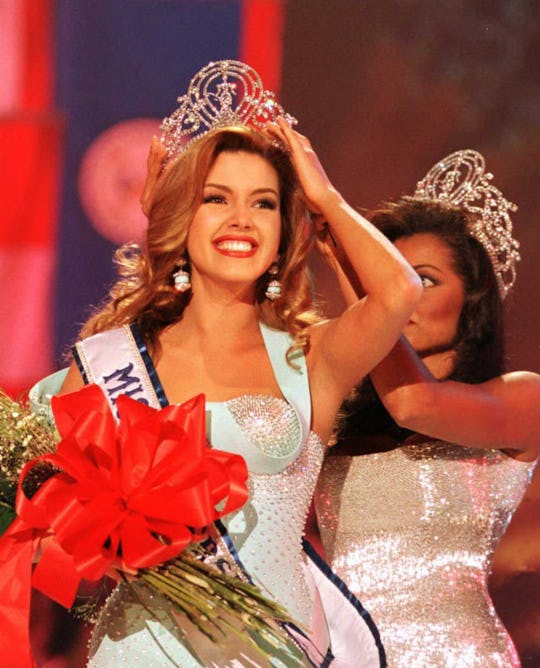 AFP/AFP/Getty Images
Is The Alicia Machado "Sex Tape" Real? Not Exactly, But It Doesn't Matter Anyway
Donald Trump's history of misogyny and insulting women is nothing new, of course, but his insistence on continuing his feud with former Miss Universe Alicia Machado is nothing short of mind-boggling. Early this morning — and with just 38 days until the presidential election — Trump issued a series of tweets in which he assailed Machado as his "worst Miss U" and urged his nearly 12 million followers to check out her "sex tape and past." Is the Alicia Machado "sex tape" real? Not exactly, according to Snopes. The claim reportedly originated from Machado's 2005 appearance on the Spanish reality show La Granja, during which Machado was allegedly filmed having sex with another member of the cast. However, there's no proof that was real, writes Dan Evon:
The so-called "sex tape" stemming from that incident, which is nothing more than some grainy, night-vision footage of a couple of covered figures writhing in a bed, hardly qualifies as explicit. And reality television being what it is, the scene the tape depicts was quite possibly staged or fabricated.
While neither the Trump campaign nor Machado's publicist have responded to Romper's request for comment, Machado responded to Trump's allegations in an Instagram post.
Translated to English, her Instagram post reads in part:
The Republican candidate and his campaign team are again generating attacks, insults and trying to revive slanders and false accusations about my life. All this in order to intimidate, humiliate me and discredit me again. The attacks that have emerged are slander and cheap lies, generated with bad intentions, which have no foundation and have been spread by sensationalist media. This, of course, is not the first time that I've faced such a situation. Through their hate campaign, the Republican candidate insists on discrediting and demoralizing [women], which is definitely one of [his] most terrifying features. [By doing so], he seeks to distract attention from his real problems and his inability to pretend to be the leader of this great country.
Machado, who recently became a U.S. citizen to vote against Trump in November, has been campaigning for Hillary Clinton and was mentioned by the Democratic candidate during the final minutes of Monday's presidential debate:
CLINTON: ... This is a man who has called women pigs, slobs and dogs, and someone who has said pregnancy is an inconvenience to employers, who has said...
TRUMP: I never said that.
CLINTON: ... women don't deserve equal pay unless they do as good a job as men.
TRUMP: I didn't say that.
CLINTON: And one of the worst things he said was about a woman in a beauty contest. He loves beauty contests, supporting them and hanging around them. And he called this woman "Miss Piggy." Then he called her "Miss Housekeeping," because she was Latina. Donald, she has a name.
TRUMP: Where did you find this? Where did you find this?
CLINTON: Her name is Alicia Machado.
TRUMP: Where did you find this?
CLINTON: And she has become a U.S. citizen, and you can bet...
TRUMP: Oh, really?
CLINTON: ... she's going to vote this November.
Whether Machado has a sex tape doesn't really matter — she's a grown woman who can do what she wants. What's important is that Trump, the Republican candidate for president, would rather spend time bickering and having outbursts on Twitter than, say, continuing to explain his policy positions to the American people or demonstrating why he deserves your vote come November. In addition, I'd be remiss if I didn't point out Trump's laughable hypocrisy over Machado's purported sex tape, given his wife's history of partaking in nude photo shoots during her modeling days.
Do I fault Mrs. Trump for making a living and showing off what is inarguably a beautiful body? Absolutely not. But wannabe politicians living in glass houses shouldn't throw stones — on Twitter or elsewhere.