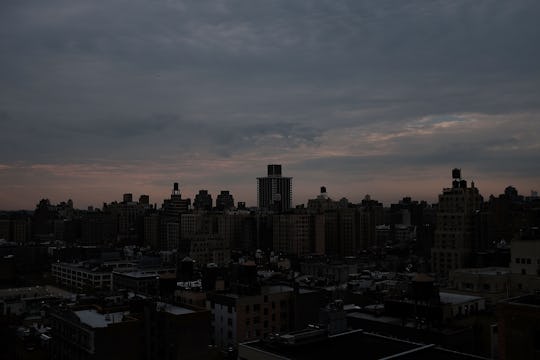 Spencer Platt/Getty Images News/Getty Images
Is The Chelsea, NY Explosion Related To The Seaside Park, NJ Bomb?
When an outdoor explosion rocked a New York City neighborhood Saturday night on the heels of a pipe bomb going off in New Jersey today, one question likely to be on many people's minds is, "Is the Chelsea explosion related to the Seaside Park, New Jersey bomb earlier Saturday?" UPDATE: The New York Times reported Sunday morning that according to officials, the New York City and Seaside Park explosions are not related. At a press conference Saturday night, New York City Mayor Bill de Blasio called the explosion "an intentional act" but did not at first attribute it to terrorism.
Update, Sunday Sept. 18: In a statement to the press New York Gov. Andrew Cuomo said:
At this time there's no evidence of an international terrorism connection with this incident, but it is very, very early in the investigation, and it's just starting. It depends on your definition of terrorism. A bomb exploding in New York is obviously an act of terrorism, but it's not linked to international terrorism. ... [The state is deploying 1,000 additional police and National Guard troops] just to err on the side of caution. I want New Yorkers to be confident when they go back to work on Monday that New York is up and running and we're doing everything that we need to do.
The blast in New York occurred before 9 p.m. Saturday evening, according to New York's Pix11.com. According to The New York Post, it occurred in a dumpster outside a residence for the blind at 135 W. 23rd Street between 6th and 7th Avenues, and was heard and felt by many nearby. The explosion injured at least 29, according to The New York Times, who also reported that a second device was found just blocks away. The second device was a pressure cooker, but the cause of the explosion on 23rd Street is not yet known, according to the Times.
The New York City explosion came on the heels of a pipe bomb that detonated in a Seaside Park, New Jersey dumpster Saturday morning, thought to have been timed to go off during the Marines' Semper Five 5K run for charity, CNN and PIX11.com reported. No one was injured. According to authorities, the device that exploded was one of three pipe-bomb-resembling devices tied together. It's not yet known who was responsible or what their motive was.
Twitter users were quick to note the fact that two explosions happened on the same day relatively near one another. However, so little information is known at this time that it's impossible to say whether the two incidents are related.
Authorities are now working to identify who is responsible for both incidents.